After a 12 hour journey from Bali, we are now in Mumbai, huge city from India. On the way to the hotel (by taxi this time, because it was 11pm), we were first surprised by the number of hoots per second!!! There is no single second where no car hoots… and secondly, the traffic rules are… How to say…. Totally ignored! The red lights are here for decoration, the white lines (when painted) are always crossed (even when cars are coming from the opposite direction) and speed limits don't exist!!
Welcome in chaotic India!!!
For the first evening, it's already enough emotions… But on the next morning we walked through the city (yes, you know us now, and you know that we love walking… First you can see parts that no tourist see and second it's free !!!). If we had to sum up our first feelings, it would be something like this: an extreme heat (more than 35 degrees in shadow), high humidity, a mixture of smells, from fish to spices, a mixture of noise, from hoots to Indian songs… But it would be also something more "poignant" (hopefully you understand this word): it is the first time since we started our trip that we see so much human misery. We could say nothing, close our eyes (As we (you and me) do usually…); but how can we ignore these naked children asking for food? How do we not feel helpless when we see all these mothers and fathers on the floor with a single dirty mattress for "house"? Of course every country (European countries included) has a "dark" side, those people whose we only speak about in general news and who die anonymous every day; but here, in India, this "image" is omnipresent.
Unfortunately we cannot help everybody, but when we see these thinned faces, we first understand what our books are talking about when they write about starvation and poverty, and second we also realise that we are very lucky to be born in such good conditions!! It is in one of these moments, that we want to shout out loud and clear "Thanks mam, thanks dad"!!!
We are not used to speak about sad things, but it is unfortunately the reality, and speaking about it is already a (small) step forward !!!
We also had the opportunity to see Mumbai in a different way: We were waiting under a porch that the rains (or more exactly the storm) stop, and we met Bhupen, an Indian of Mumbai who "took care of us". First we had a long talk waiting for the rain to stop and then he offered us an Indian burger (made of bread and a vegetable samosa); and he proposed us to meet tomorrow again.
Before meeting him, we followed his advice and we tried local food in a good restaurant. In the evening we went with him to one of the places celebrating Durga Puja. This Hindu festival lasts 9 days and celebrates the goddess Durga (wife of Shiva). She incarnates the invincibility and she is famous for having beaten Mahishasura, a demon that takes the form of a bull.
All other gods gave Durga weapons.
In her 10 hands, she has got for example an arrow and a bow, an axe….She is always seen with a lion or a tiger, symbol for bravery. Th festival last 9 days to celebrate the 9 forms of Durga… (to discover the 9 forms, go on Wikipedia
J
)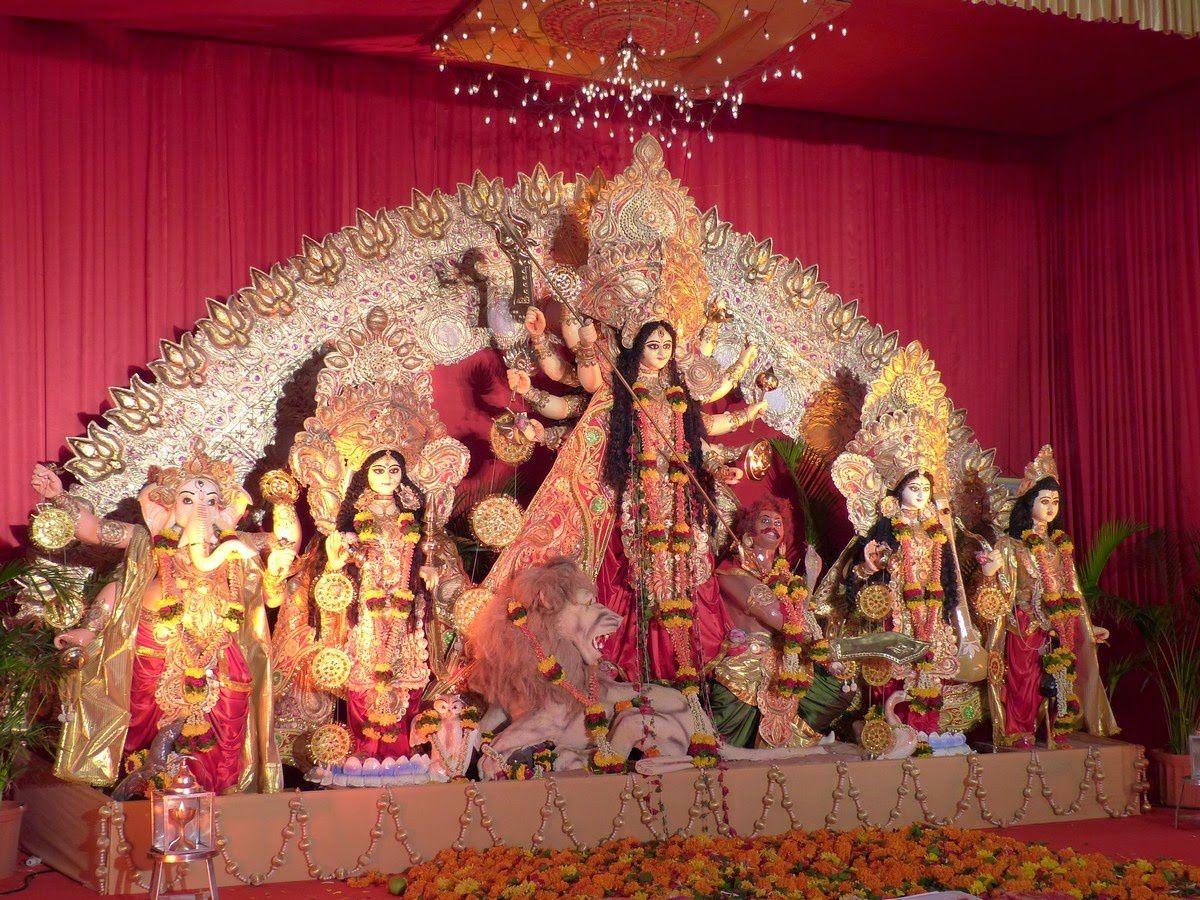 After the celebration, we shared a local meal with sticky rice, vegetables and spices (of course).
Delicious! And we said goodbye to Bhupen.
On the way to our hotel, we watched women dancing with sticks (to honour Durga) and we also assist the traditional ceremony !! One more time, we had a great time, sharing local habits with local people!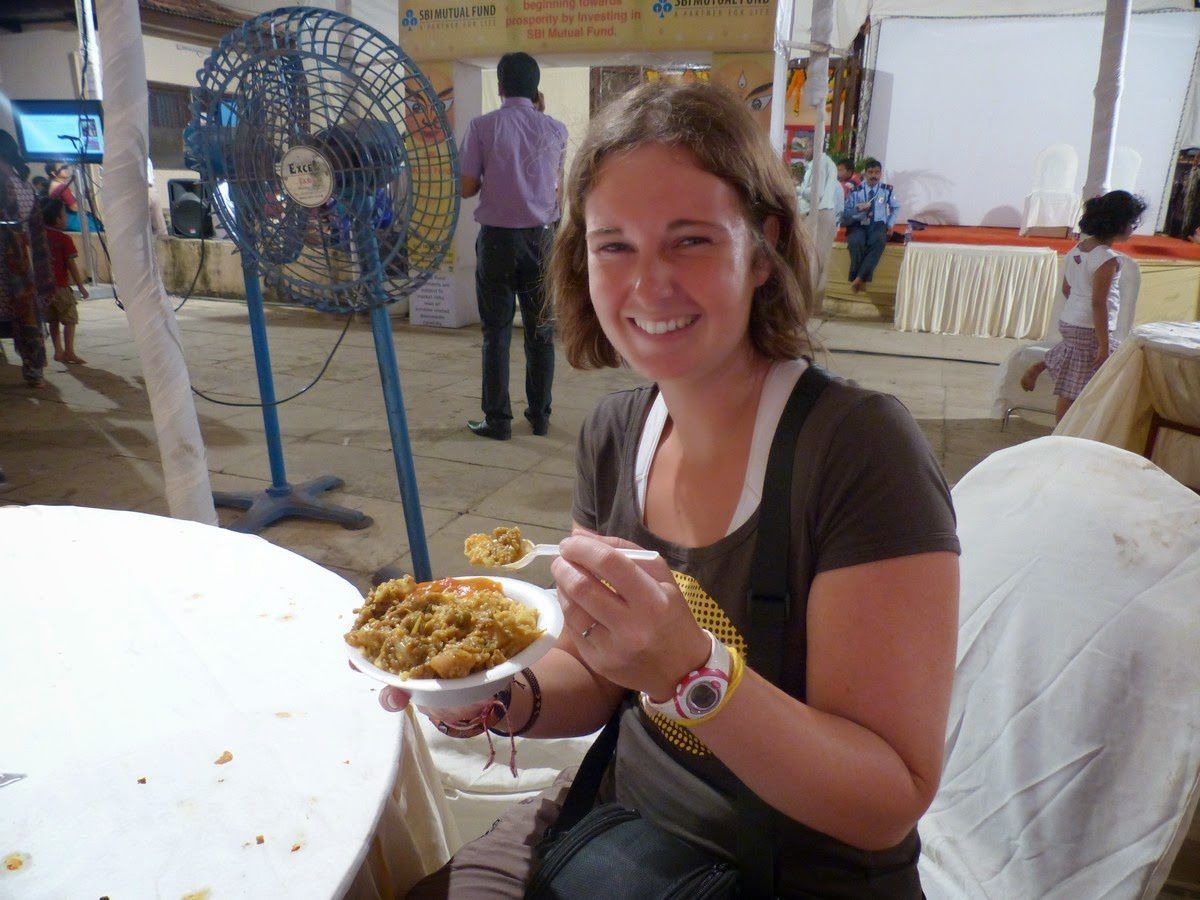 The next day, day of our departure to Udaipur, we had to go at the bus station by train. Bhupen was really nice to come with us and we really appreciated it because the train, 2nd class, in India, when you're not use to it and with big bags, is really something " challenging".
At the train station we saw everybody running on the train, even before people going out of the train ! We entered the train as well… To imagine how it is, it's like you have a row of 4 people on your left hand side, 3 people on your right hand side, and a lot of people standing in the middle! On the roof, there are fans and colourful garlands. We were "stacked" among all these people and Bhupen said nicely to us "When we will have to go out, you need to be quick"!! In fact, before our stop, we came closer to the door (in a long effort, pushing everybody, and everybody pushing us) and when the train arrived in the station, we jumped out of if before it stopped completely!!! What an experience! Thank you so much Bhupen for having helped us in this urban jungle!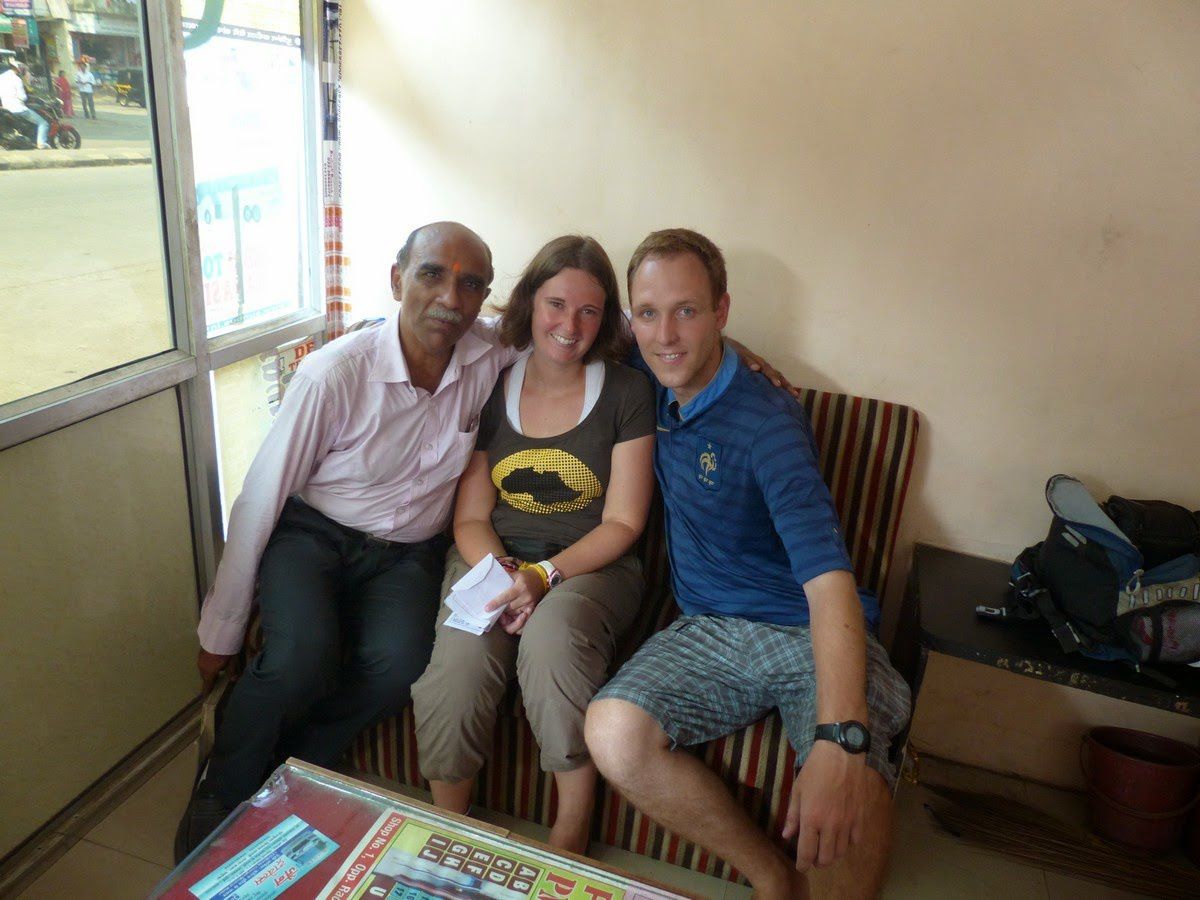 Bhupen and us, waiting for the bus!
After, we waited a long time for our bus (more than one hour delay…) but we could finally jump in. It is a sleeping bus with small "boxes" containing mattresses… Let's go for 17 hours of travel !!! We will tell you in our next post if it was comfortable or not!
Once again, we spoke more about people we met and about the atmosphere of the city than about the city itself!!! But as you can guess, Mumbai is a huge polluted and crowded city and even if some buildings have a nice architecture, we will not remember Mumbai because of it!!!
To be informed of the latest articles, subscribe: