We arrived early morning (after a new night in a sleeper bus) in this small touristic city. Pushkar is built around a holy lake counting 52 ghats. In the ghats people are bathing, praying, and washing clothes…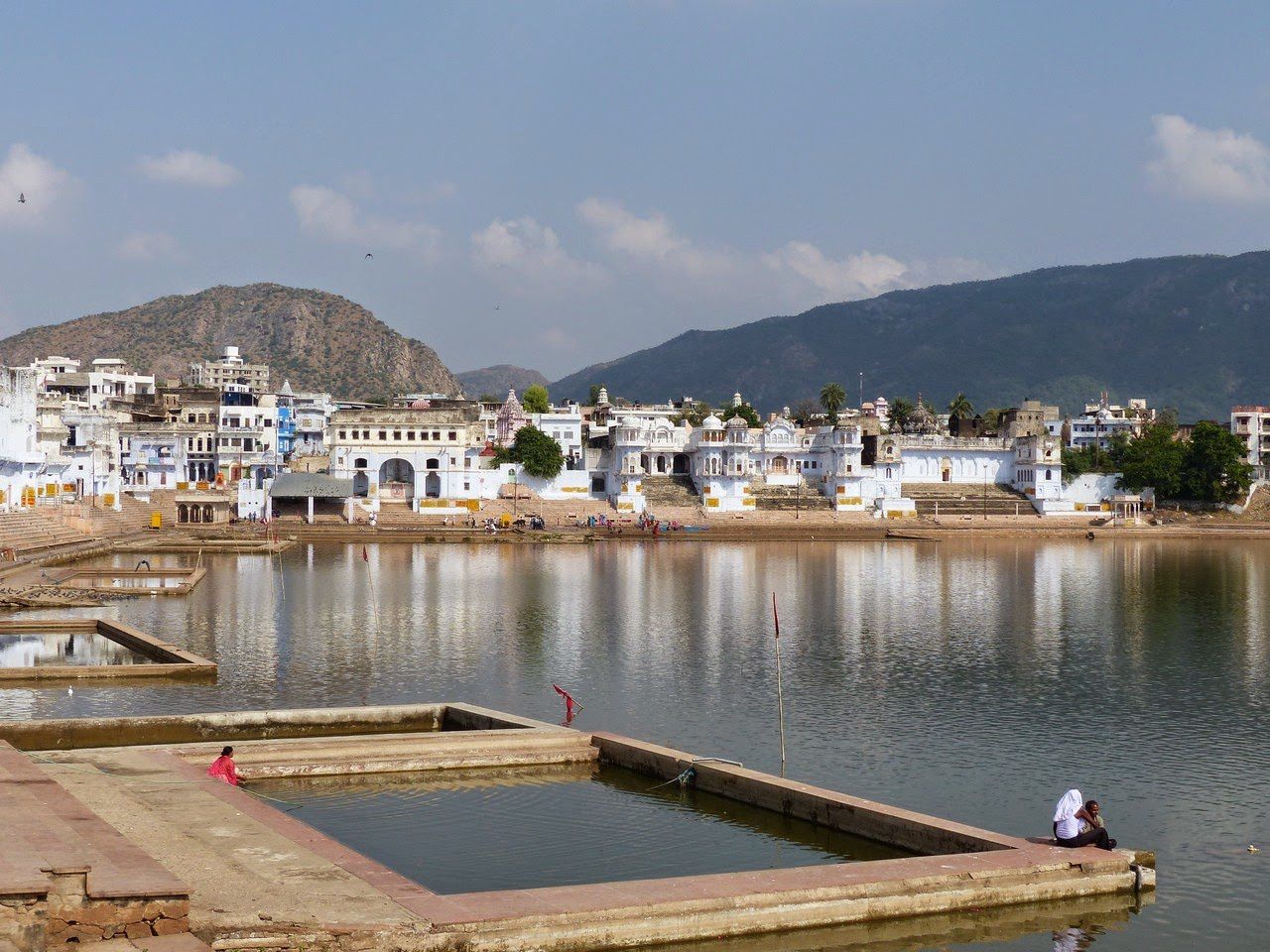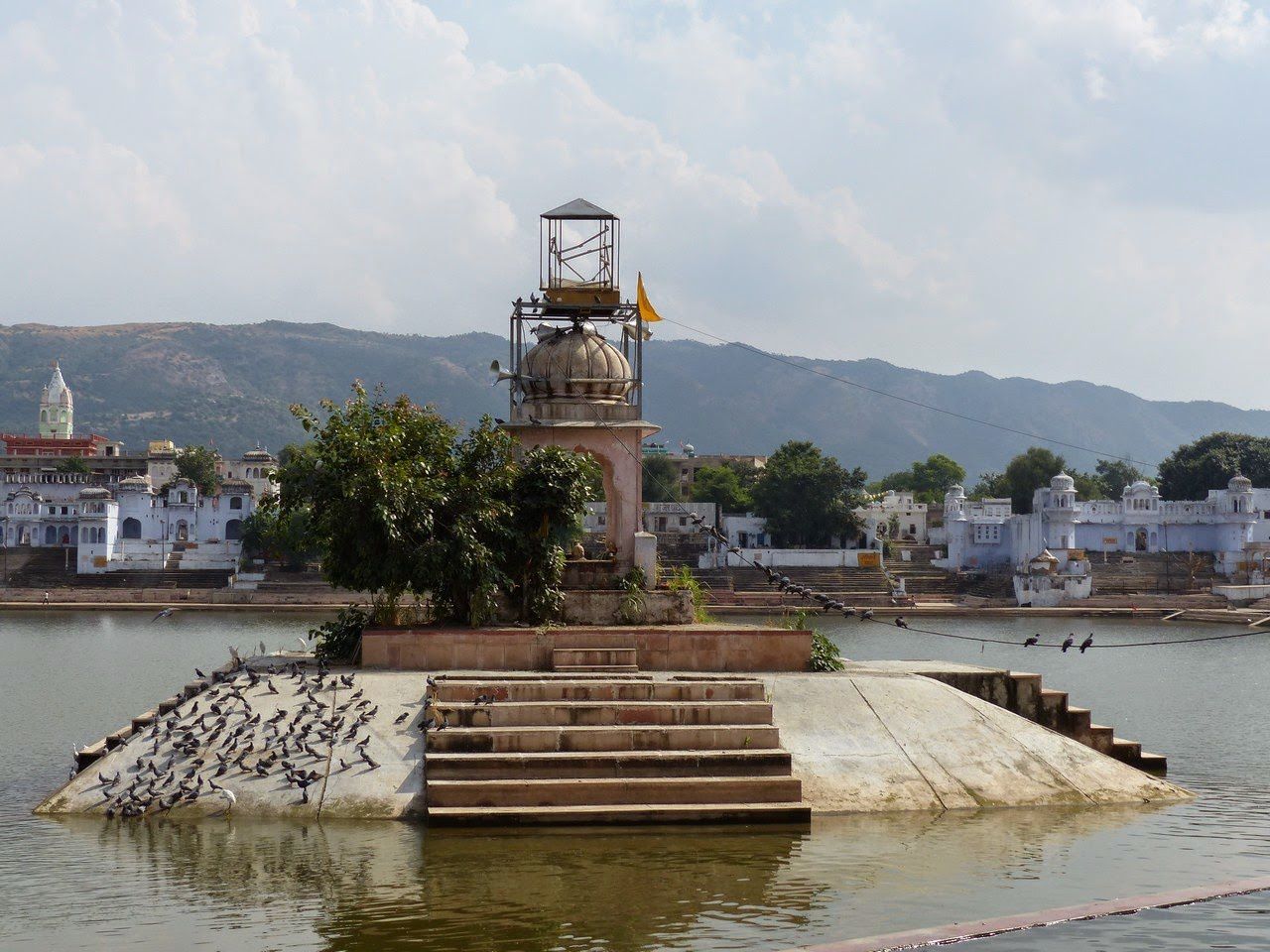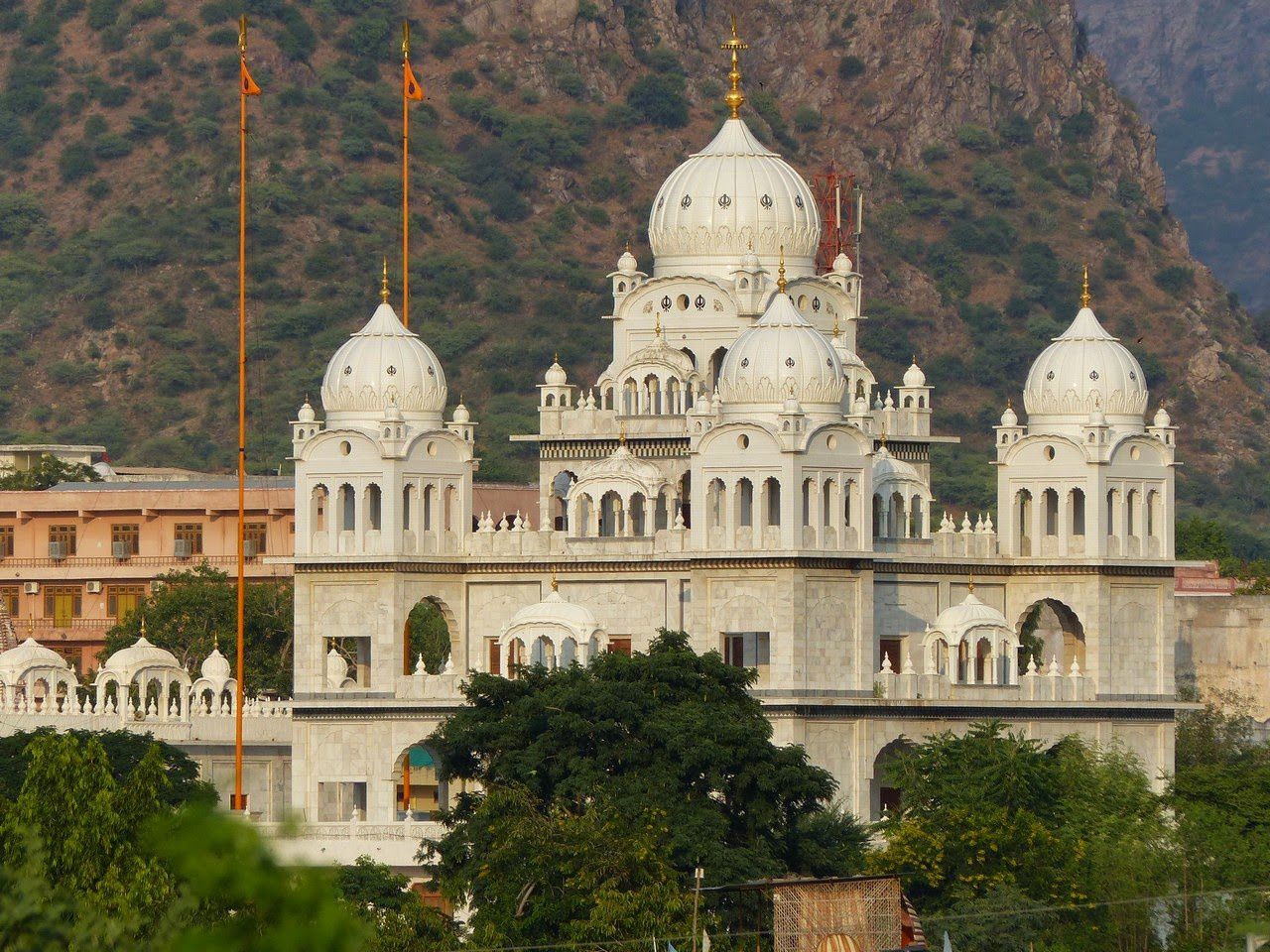 But as the majority of touristic places, there are a lot of touts… Their favourite "trick" is to give "free" flowers to tourists (like us) in the streets and tell them to throw them in the lake for good luck. As we had time to spend, and we wanted to see the lake now or later, we walked to the lake… and that's the beginning of the "trick". Two "so-called" holy men came to us and one conducted me from one side of the ghat and Romain to the other side. We were asked to repeat a "prayer" in Hindi (of course we don't understand what we are saying) and we get a red dot on our forehead. We throw our flowers in the lake…and then the man with me starts talking in English. He tells me that in Pushkar, a majority of people live in temples and they can only live with our donations… (Okay, I knew they will ask for money…but the rest is "funny"). The man asks me how many people are in my close family, counting me. I said 4 and then he told me "Everyone is free to give donation in his home currency, Indians give rupees, Americans give dollars, and Europeans give Euros. As you are 4 in your family, you should give at least 5 € per person, so 20€ to bring luck on your family". Ahaha, I was just waiting for it. So I start (calmly) to explain him that this is not my religion, I don't even understand what we did, and if I really want to pray for my family, I'll do it in my church… Then I tell him that asking for money like this is not something "honest and respectful" and if I really want to help a family, I'll give money directly to them. Romain does approximately the same with the other guy.. but of course they don't want to listen to us and they finished hauling at us that we have a bad karma and that we should leave this holy place immediately because we don't belong to here. It makes us laugh to see them so upset just because they didn't get our money but in the same time we were really angry about their acts!
We are especially upset that those people try to tell you they are religious people with principles like honesty and sincerity… But they only have principles for money !!!! But at least, you are aware now : if someone from Pushkar wants to give you flowers, just say no.
So, to conclude it wasn't a good start in Pushkar!!! Fortunately we knock at a school door and they were happy to take part of our project!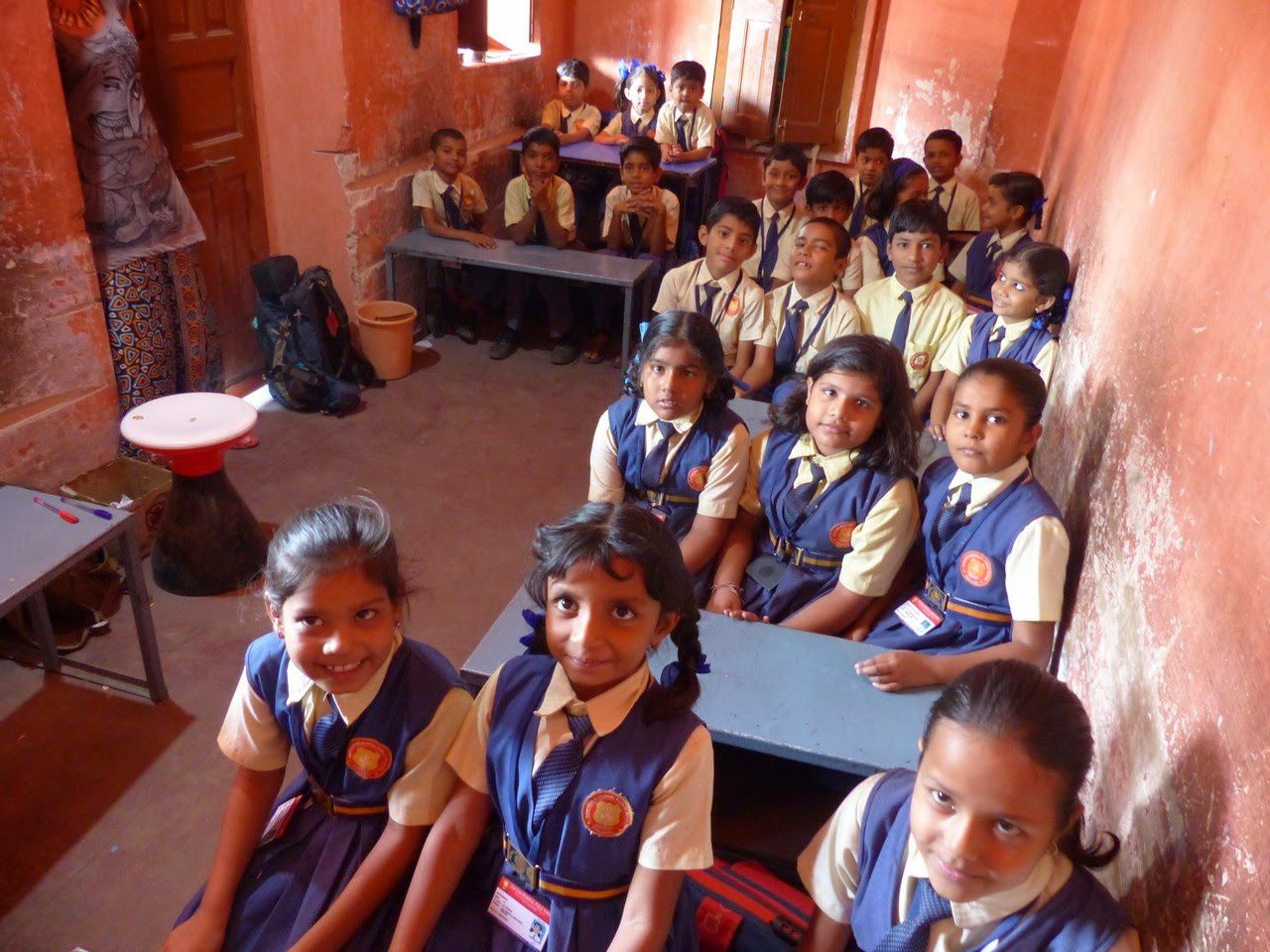 Kids, still wearing uniforms, sat 3 per bench in a very small room. When we went out to go to the playground, they formed a line, girls and boys separated. It is a school where children learn English. Families have to pay around 250 rupees per month (3€).
They showed us their version of "green light/red light": all children (except one, the leader) run around the playground and are watched by the leader. When this child says "stop", everybody has to be like a statue. If someone is moving, he is out of the game.
Then they played the "wolf and snake": One child is a wolf and he has to catch other players. When someone is caught, he has to join the wolf (giving him hand) and forms a chain. Together they can catch other players to make the chain grow. But if the players break the chain (without getting touched), the wolves cannot catch any one until the chain is rebuilt.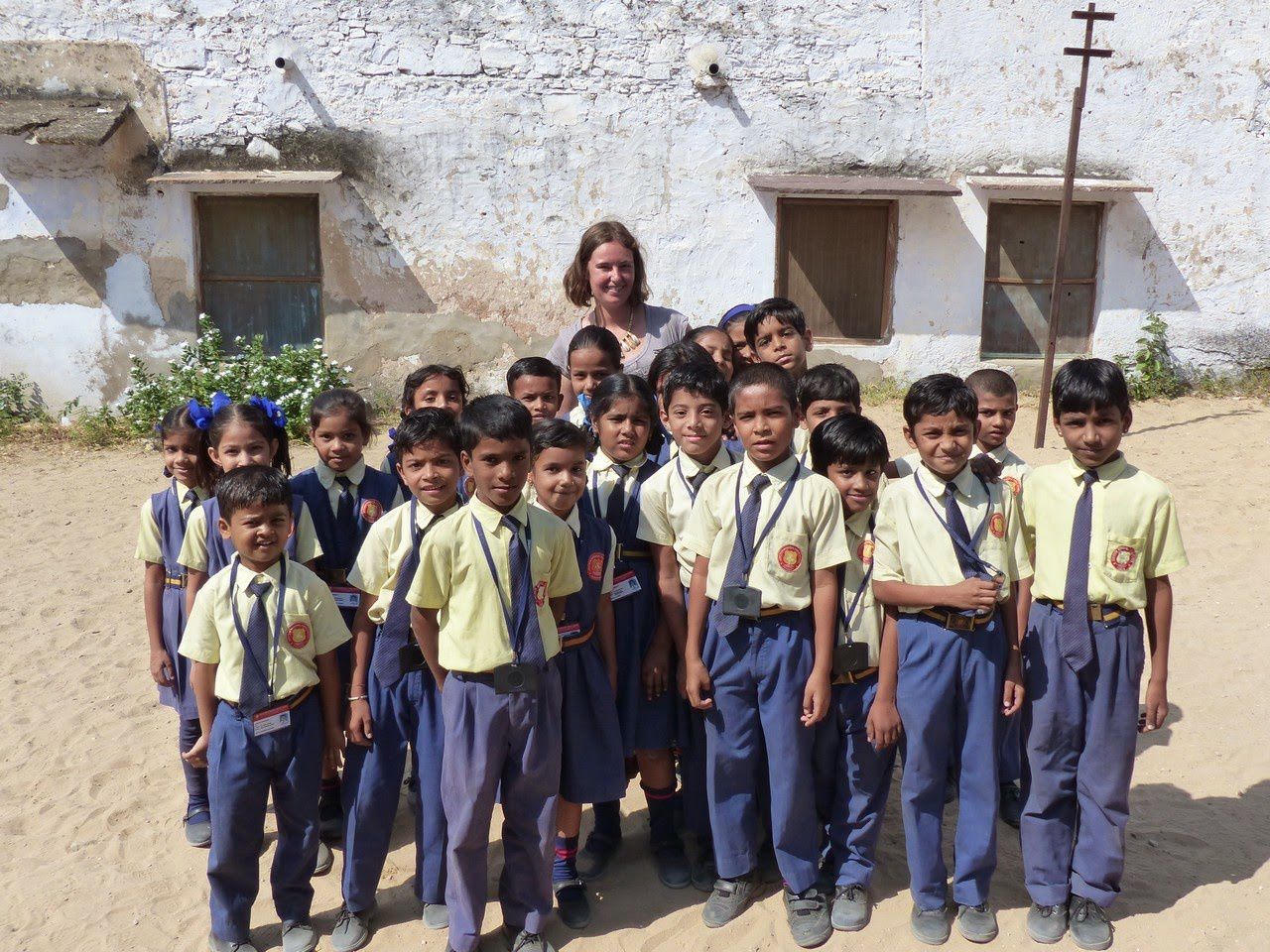 We then showed them one of our French game and we laughed a lot together!!
Our visit was short (as we don't contact them in advance because they don't have any internet contact) but we are always warm welcomed!!
So, from Pushkar we will obviously only remember our school visit. The city itself is quite nice but there are too many touts!
To be informed of the latest articles, subscribe: