We arrived in Phnom Penh the day after Christmas but the magic of Christmas was still present: Chris, owner of the Arun Villa Hotel proposed us to host us for free during 4 nights!!! He liked our project. What a lovely gift: Beautiful and big room, clean with even a French Touch and a private terrace….and a pool outside! The staff was so helpful and friendly that we almost felt home!!!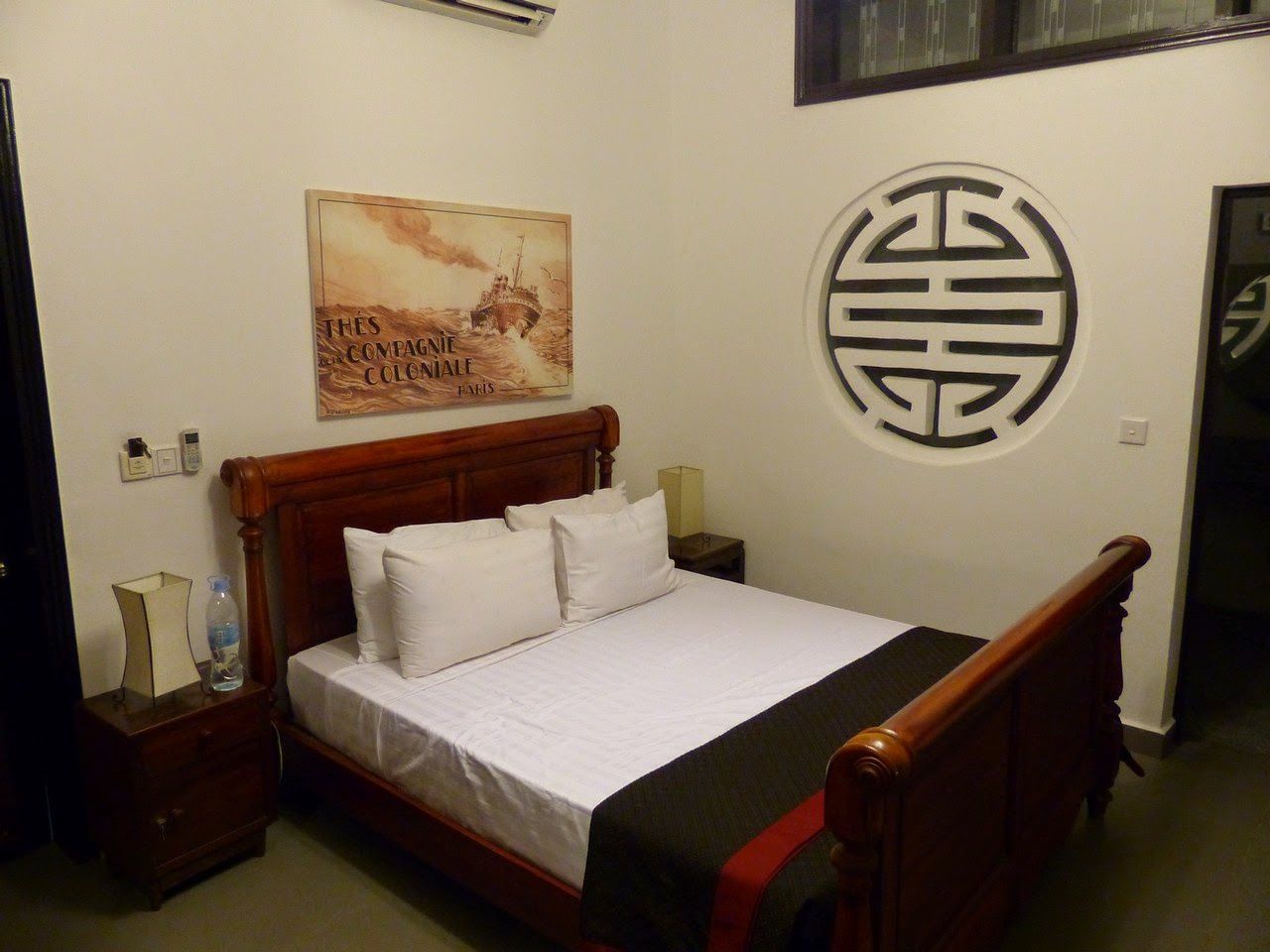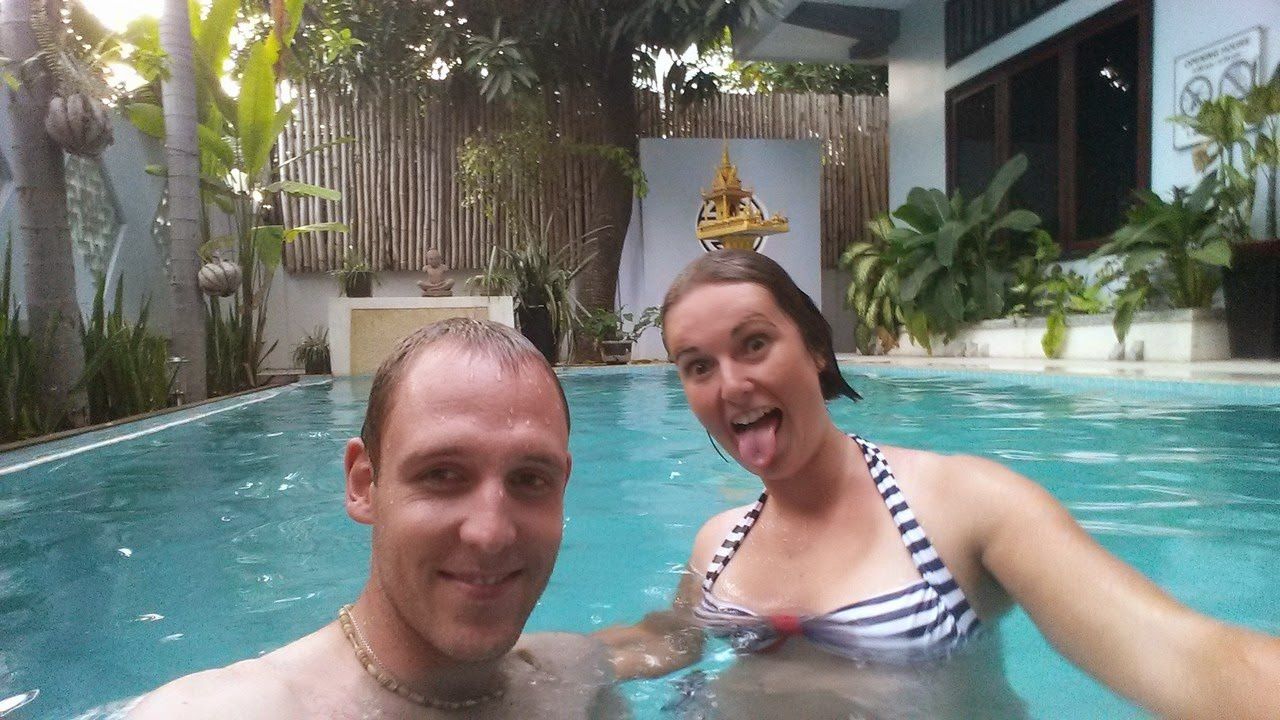 But in Phnom Penh, not everything is so peaceful. We visited the S21 museum, also called "museum of the Genocide" and the "killing fields" of Choeng EK. In our last post about Battambang, I was telling you about the cruelties done by the Khmers Rouges; when you are in S21 or Choeng Ek these atrocities come unfortunately alive.
Let me try to explain you the terrible History of Cambodia.
Communist ideas in Cambodia appeared in the 40s, when France was still occupying Cambodia. After the Indochina War (1954), some believers of these ideas joined together and built a "militia" to fight against the Sihanouk Prince (who came to power).
Most leaders of this "unit" did their studies in France and were members of the PCF (French Communist Party). In 1970, the Prince of Sihanouk is "replaced" by Lon Nol after a Pro-American Coup d'Etat. But Lon Nol doesn't achieve to calm tensions in the country and Pol Pot (the Khmers Rouges Leader) managed to federate youth from the countryside and soon they believe him and his ideas: the "Khmers Rouges" were born. ("Khmer" represents the biggest tribe in Cambodia and "Rouge" means red and represents the colour for the communism). On the 17 April 1975, the Khmers Rouges attack Phnom Penh. In a very short time they close schools, hospitals, temples, plants… and force the people to go back to the countryside and abandon cities. Their ideal is simple: eliminate all social classes to create the "new folks" who lives only for the community. Pol Pot wants to live in autarchy and forces people to produce more rice. In order to achieve this, he creates "collective farms" which are in fact slaves work. L'Angkar (Which means "Organisation") is heavy handed and oppresses the population. All "intellectuals" and/or all who have a link with the western world (except members of the Angkar) are killed with their families because Pol Pot thought, he had to "eliminate the problems from the roots".
In the country, a lot of prisons appear. The S21 prison was a high school before being "transformed" into a prison by the Khmers Rouges. More than a prison it was a torture centre because anyone entering these gates had to admit a crime (done or not). Electrocution, drowning, hanging… were very common. Almost 20000 people (men, women and children) entered this prison (and less than 200 went out alive). Once their "crime" admitted, prisoners were put in big trucks with tied hands and blindfolded and driven to Choeng Ek (the "killing fields"). They were asked to kneel and were killed in cold blood with a bamboo stick, a hammer, a pickaxe… everything but firearms because bullets were expensive and Pol Pot did not want to "use money for so useless things".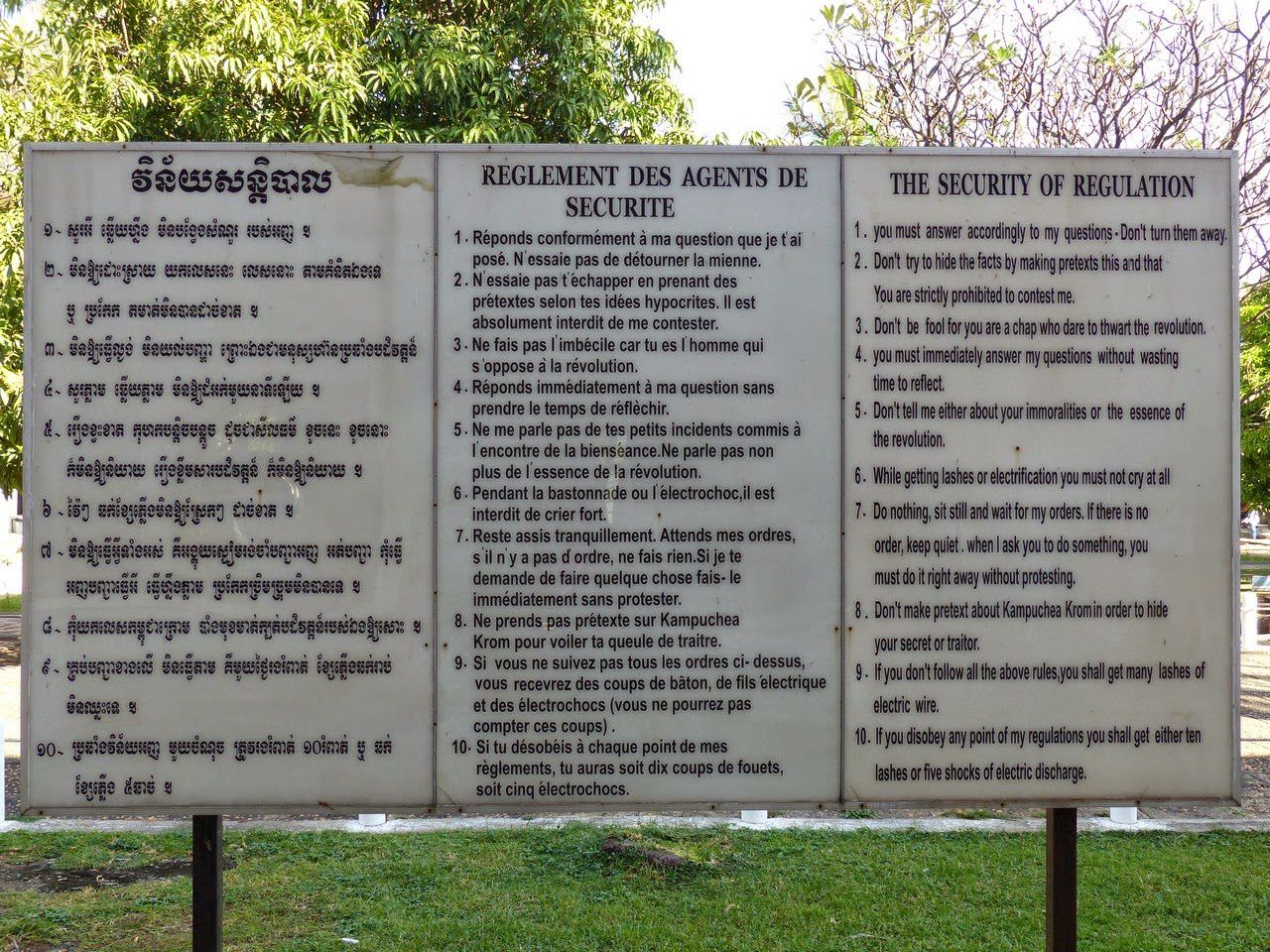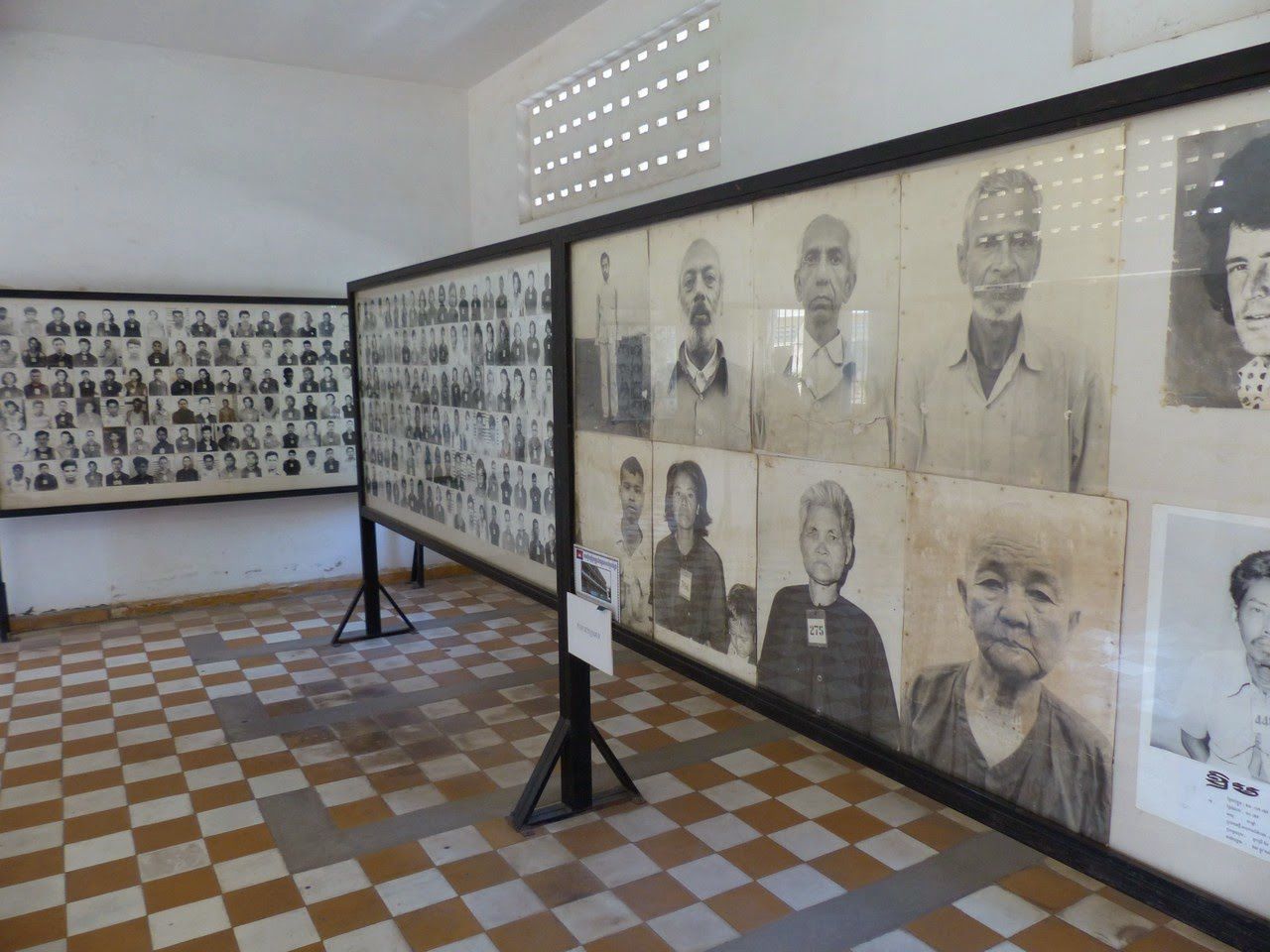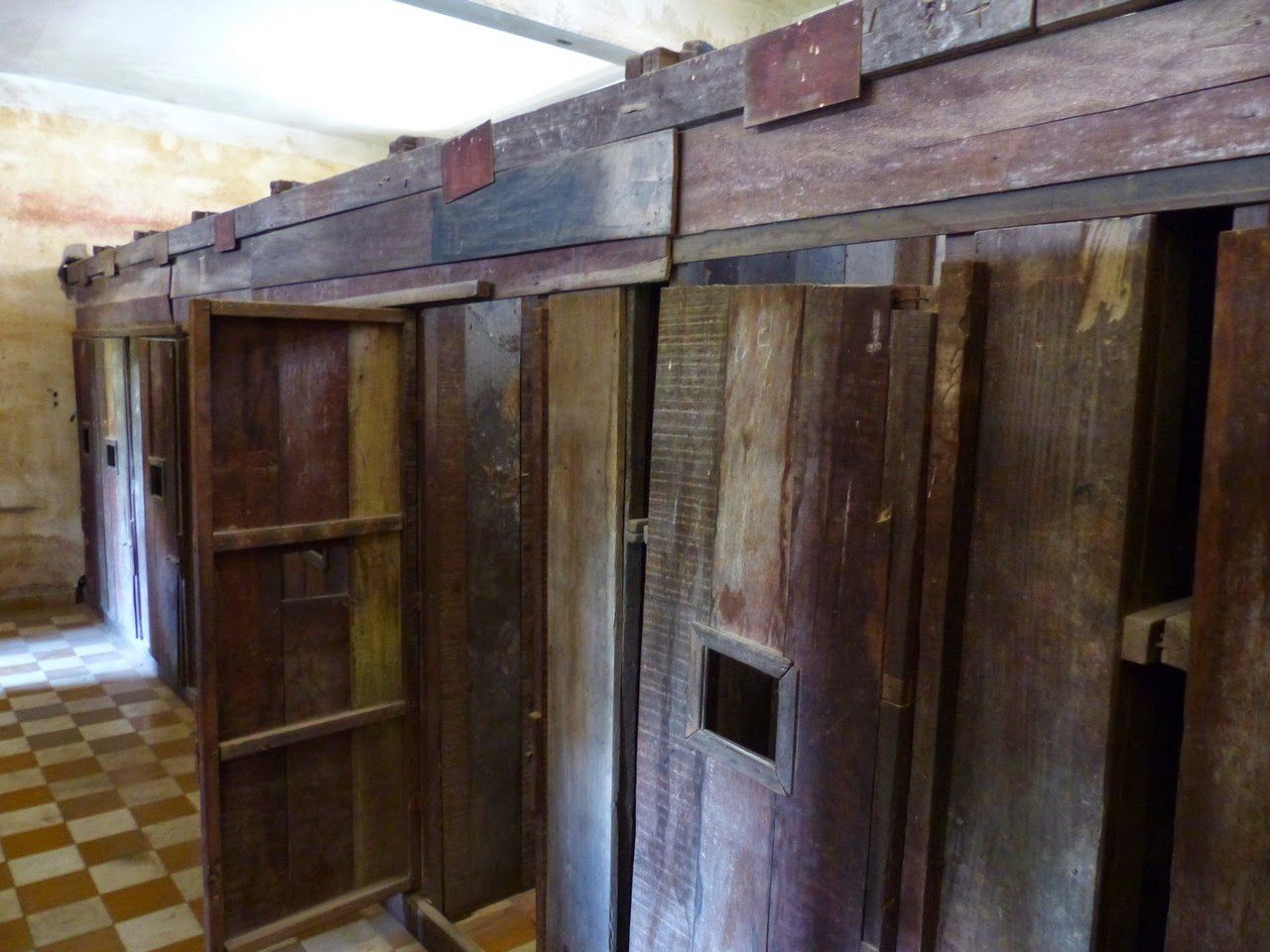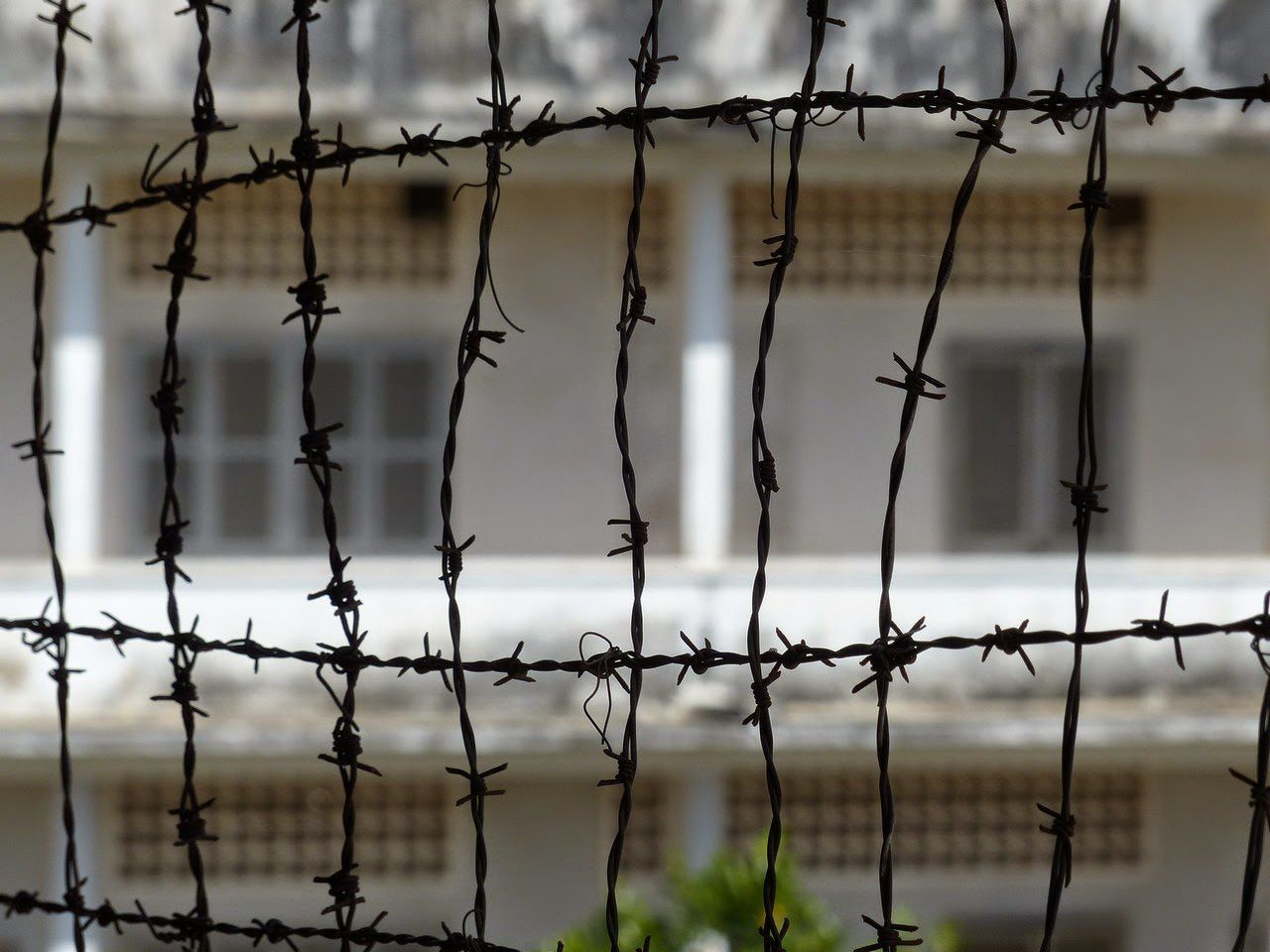 When people did not died directly, they suffered many hours, especially when guards spray them with pesticides to hide the horrible smell of death.
The cruelty of the Khmers Rouges was endless: one tree was used to killed young children: Killers took the children by the feet and crushed their heads against the trunk…. And in front of their mothers who were raped before being killed as well!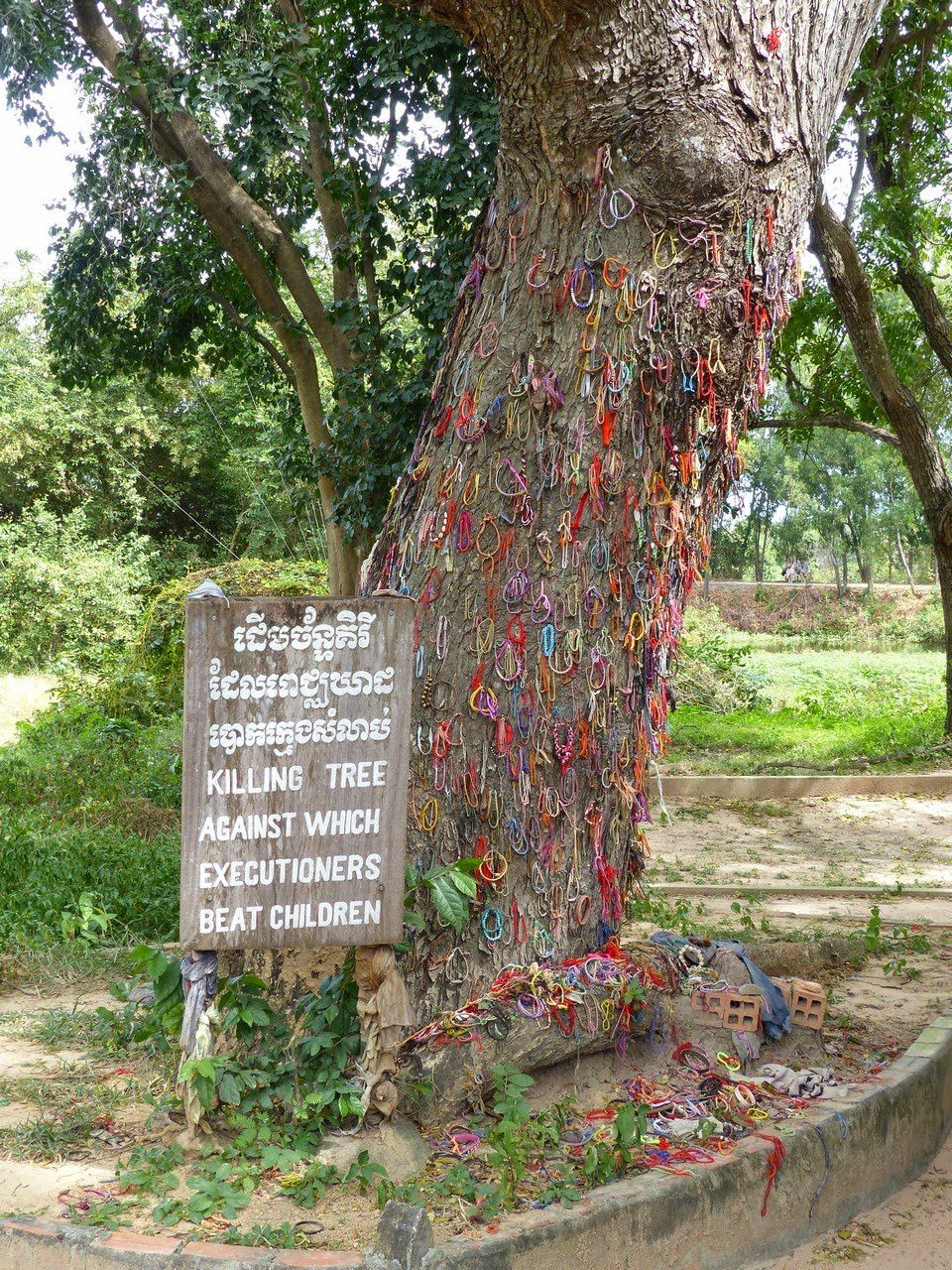 In the Choeng Ek Killing fields, we found 129 common graves but only 89 were excavated. More than 18000 people died and today a commemorative stupa adorns this horror field. In the stupa, 8000 skulls of victims rest in peace and in the respect of the souvenir.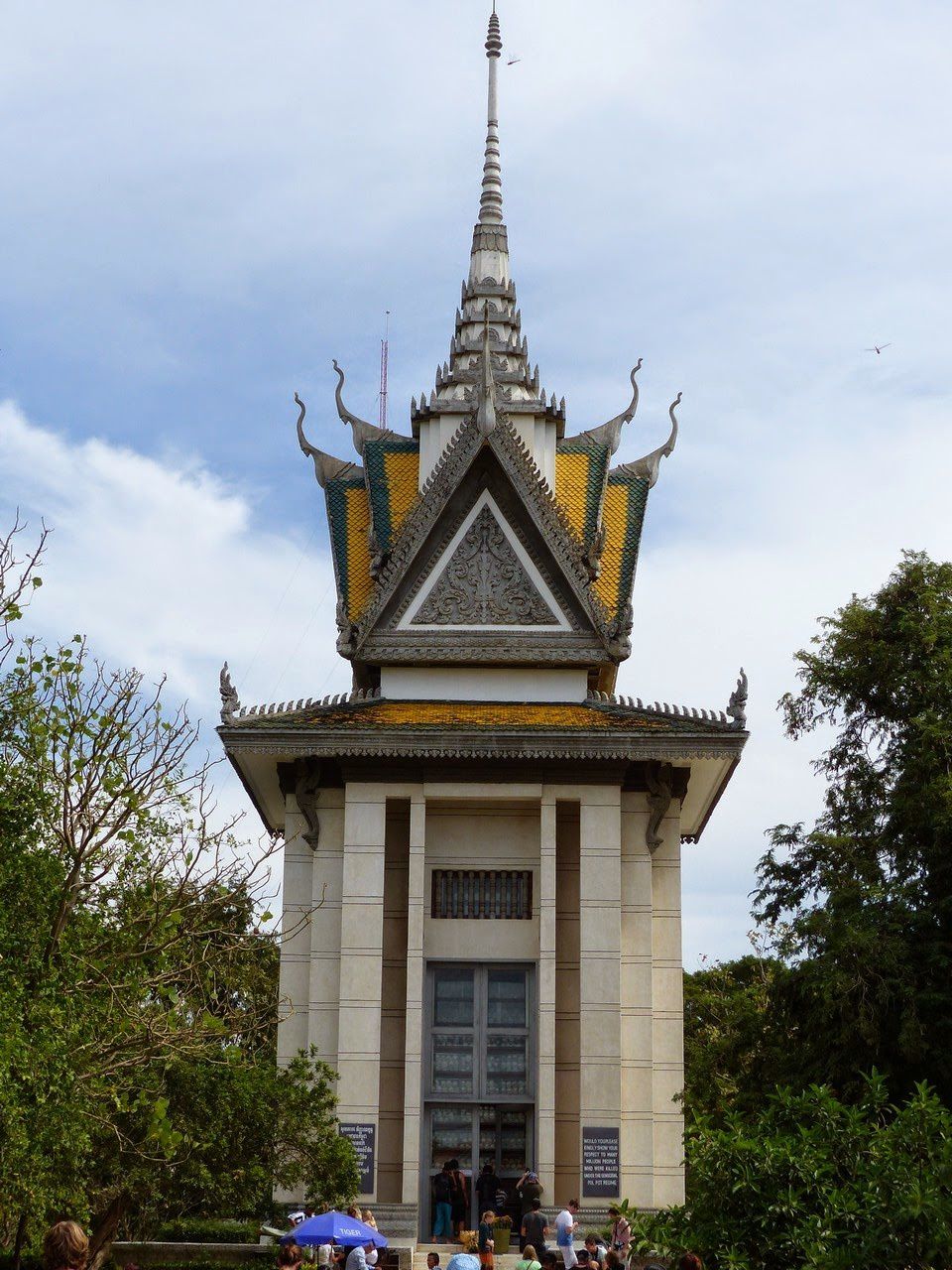 Finally, the government of Pol Pot was stopped on 7 January 1979. This genocidal period killed more than 2 million people (on a population of 8 million at this time). 300 000 died directly killed by a Khmer Rouge, the others died by disease, starvation, hopelessness, brutalities…
Cambodian People had to wait until 1997 to see Pol Pot condemned for crime against humanity and crime of war. Unfortunately he died before his process. Since then, other leaders were arrested, condemned and are in prison now… but the Khmers Rouges ideal isn't completely "out of the game"…
It is really difficult to imagine how Men can be so cruel with other Men. History is made with great acts but also with horrible things, like this one! 1975 is not so far from today, we were almost born!!!! How such a thing could happen? How such a thing could have been avoided? Can such a thing happen again? Why did we learn from the past??? All of these questions are open but when we were in those terrific places we had a thought about it. It is our duty, not to forget, but also to learn from our mistakes.
As you understand, we were touched and disturbed but also revolted by these two sites. But we highly recommend these visits. We cannot forget what happened in the past!!! Nowadays, a lot of Cambodian families are still crying the loss of someone and have physical and mental sequelae from this time. How many years will be necessary to close the wound… Only time will let us know….
To be informed of the latest articles, subscribe: