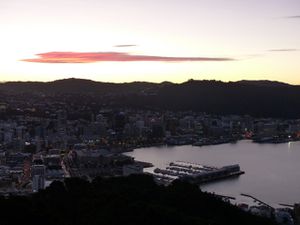 After more than 3 weeks in the South Island, we are now on the North Island!! Our car kept quiet on the ferry but Romain almost got seasick…
We arrived in Wellington (the capital city of NZ) under a grey sky but it didn't really bothered us and we walked in the streets before eating a lovely waffle full of whipped cream (and chocolate but I don't need to tell you…) We were hosted by Matt and Jess, friends of Romain's colleague! It was really nice to meet them, discover NZ habits…and try the famous "NZ fish and Chips" but a luxury one: with grilled fish and Kumara chips!!! Really good (but sorry, the French cuisine will always taste better ;-))
After more than 3 weeks in the South Island, we are now on the North Island!! Our car kept quiet on the ferry but Romain almost got seasick…
We arrived in Wellington (the capital city of NZ) under a grey sky but it didn't really bothered us and we walked in the streets before eating a lovely waffle full of whipped cream (and chocolate but I don't need to tell you…) We were hosted by Matt and Jess, friends of Romain's colleague! It was really nice to meet them, discover NZ habits…and try the famous "NZ fish and Chips" but a luxury one: with grilled fish and Kumara chips!!! Really good (but sorry, the French cuisine will always taste better ;-))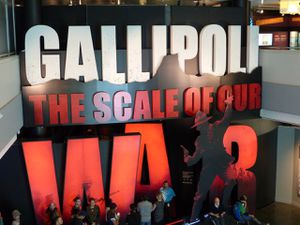 On the next day we had a completely blue sky… but we decided to visit the Te Papa Museum! This National Museum is free and you have several exhibitions about geology, arts, transports, history… They had a special exhibit to commemorate the 100th anniversary of Gallipoli!
What? You don't know what is Gallipoli? It is a battle which took place during the WWI in Turkey where Kiwis, Australiens, British and French fought together! After the British declared war against Germany, Kiwis and Aussies were called to help the Crown! While they arrived in Egypt and were heading to France, Turks, who had joined Germany, wanted to block the Bosphore Canal. So the military troops were sent to Turkey and landed in Gallipoli in Anzac bay the 25 April 1915. The battle which was supposed to be quick and easy was eventually a defeat. It lasted 8 months and more than 100000 people were killed! Nowadays the "Anzac Day" commemorates each year the heroes of the field!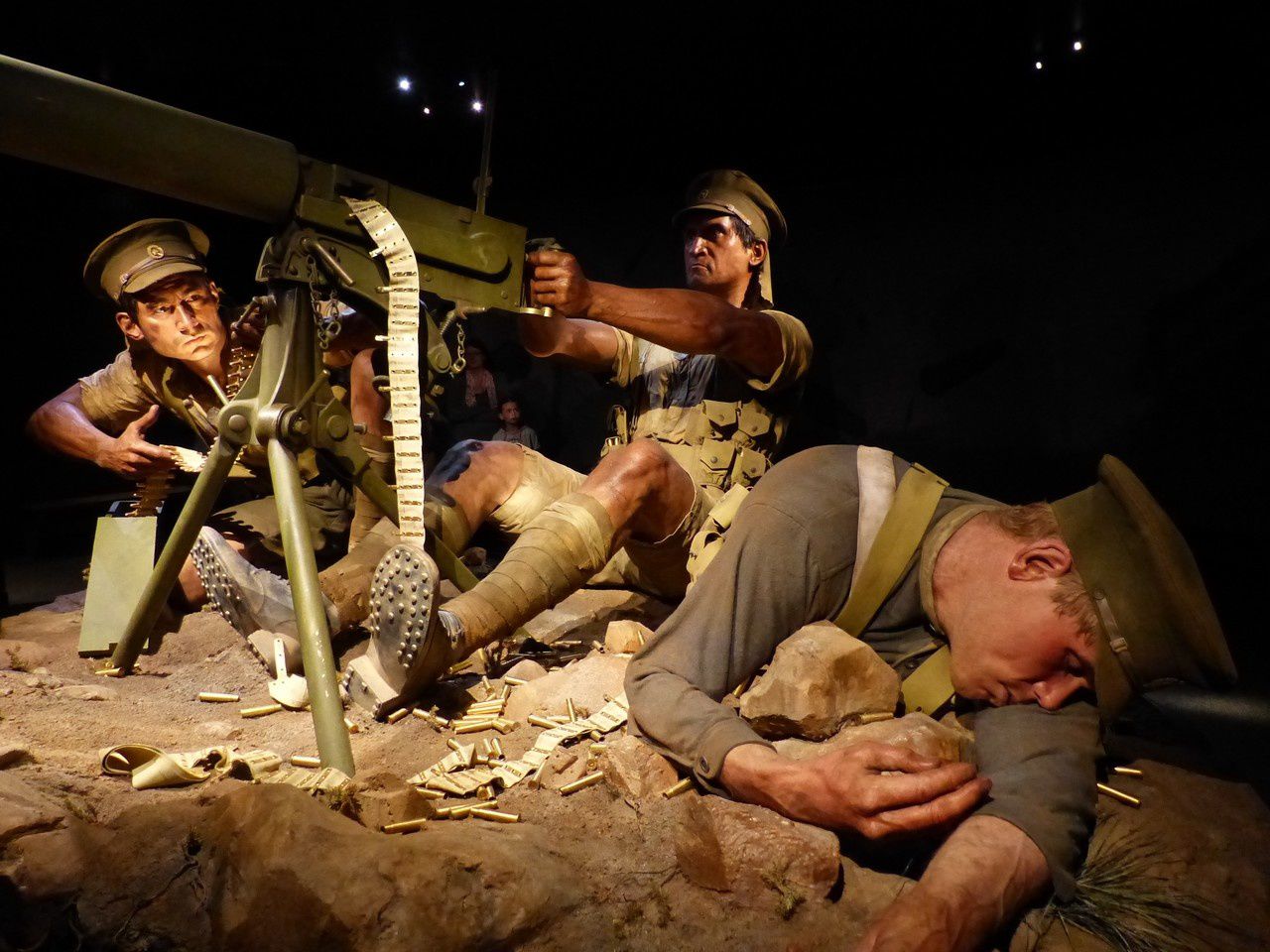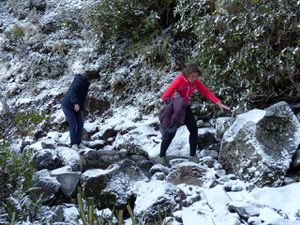 After these 2 days in Wellington, we drove to Taranaki with an additional travel mate: Flora, the girl e met in Franz Joseph and who will follow us few days!
Taranaki is an active volcano (last eruption was 1755) which has the particularity of forming an almost perfect cone! As it is the beginning of Winter here we couldn't climb the summit (at 2518m) because of the ice and the snow but we walked at its base and it was great! We had to cross a really cold river… And Flora was courageous enough to cross it bare footed! We preferred jumping from rock to rock…even if it was slippery! We all arrived dry at the other side of the river!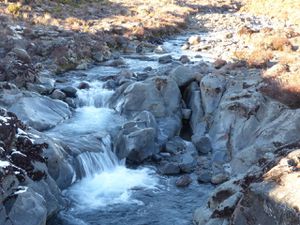 To keep going with the hiking, we then moved to Tongariro NP! Mount Tongariro is also a volcano and the park is famous for is one day trek "the Tongariro Apline Crossing" where you can see blue lake! Unfortunately the summit was full of snow and ice and it was impossible to cross without crampons ice axes and a guide… at 175 NZD per person!!!! So we chose an other option: We found a 5 hour trek to see different volcanic lakes and it as really safe! We saw the Mordor (for the fan of Lord of the Rings) and Mount Doom (the Mountain where you can destroy the ring…)!!! A great day but we have to come back anyway!!!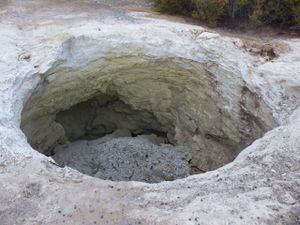 As you noticed it already, NZ is a volcanic country and it was impossible to leave the country without visiting a geo thermal park. Rotorua is a city built in a region with a strong volcanic activity. When you arrive there, you see smoke, bubbling water, geysers, hot mud… and you smell the sulphur… which is a very bad smell !
There are many geo thermal parks near Rotorua and we chose Wai-O-Tapu ! We don't regret it!! We could see water from different colours such as green, blue, and grey, orange, yellow… and a lot of smoke! It is so impressive to see what Mother Nature can create…and destroy!! Because it is important to remember that volcanic activities and other geologic activities can be fatal… A good way to remember that Humans are nothing compared to the planet, so please respect it !!!
I also couldn't resist to a mud bath… and I have to say I liked it ;-)!!!
That's now the end of our NZ trip… We finished with Coromandel and its hot water beach but the weather was so wet that we didn't really enjoy!
In Auckland we mostly walked in the city but as the town lies on two different tectonic plates, many volcanoes can be seen! It is interesting to see but it is still a city…If you only have few days to spend on the North Island, go somewhere else ;-)
We are now heading to Tahiti… See you under the coco trees ;-)
To be informed of the latest articles, subscribe: