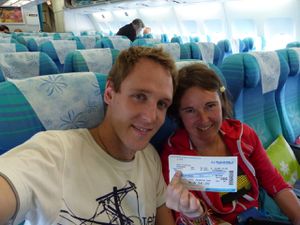 After the cold of NZ and before winter in South America, we did a sun bathe in French Polynesia! We stayed there only one week…and it was really not enough!!
But we should start with the beginning: we lived 2 times the same day!!! No, we're not getting insane… But between the amazing archipelago and NZ there is a 22 hours jetlag! So we left on the 23rd of June and we arrived on the 22nd!!! Just a pity that is wasn't my birthday ;-)
French Polynesia is a "COM" (Collectivité d'Outre Mer), so it is independent from France is a large way but this freedom took time: At school, the learning of Polynesian languages was only allowed again in 1977… But anyway, France or not France, these islands are like heaven on earth… and we only saw a small part of it!!!
We arrived in Papeete on Tahiti. After a late landing and a night spent in the car, we were warmly welcomed by Iris and Guillaume, 2 expats living on the island! Following their good advices, we did a nice hike! Tahiti lays between see and mountains: the blue lagoon on one side and the green volcanoes on the other! Really beautiful! We also drove around the island, saw its black sand beaches, its quiet lagoon and its friendly inhabitants!! Then we took a ferry to Moorea, the island in front of Tahiti, because everybody was speaking about it… and we were not disappointed!
Between the clear blue water, we swam with black tips sharks and sting rays…even with lemon sharks!!!
We only hitch hiked on the island and we always found someone to take us ! it is while hitchhiking that we met Christophe and Mathilde who hosted us and then Damien, lucky owner of a boat where we slept in Opohunu bay, gently rocked by the waves. Having a salted jump in the morning, wahou, so cool!!! While we were walking in the forest, we saw pineapple plantation, papayas, and corosol: this weird green fruit! We also went to a traditional meal : the Maa Tahiti! This Sunday meal is prepared in an oven dug in the sand: the bottom of the hole is recovered by stones heated by wood fire! When the stones are hot enough, fire is stopped and banana trunks are put on top of it. Meat, fish, fruits and vegetables are then added with a lot of banana leaves. The whole oven is closed with some fabric (the same as potato bags) and finally sand! 4 hours later, the meal is ready!!! It was good! We also tried the traditional « fish coco » : it is raw fish with coconut milk, so delicious ! and we finished by the "unfamous fafaru": it is a very smelly meal as the raw fish is macerated many hours in salt water and "fish rests"… The smell is even stronger thant the durian itself!!! (No, I'm not kidding!) but we only tried a "touristic version" of this meal…so we won't say is was the best meal ever, but we kind of liked it!!! (Even though I don't wanna try the strong receipe!)
Of course we enjoyed the 27 degree water to have a bath everyday… It is so cool !!! We loved our small trip « back to France », but it is a pity that everything is so expensive… maybe that the price to pay for such a beautiful place ? We will come back for sure to discover other islands and other hidden treasures that Polynesia has to offer!
We are now heading to Easter Island and its mysteries…
To be informed of the latest articles, subscribe: