We were really happy to arrive in Buenos Aires and especially to stay with Leo, a friend we met more than one year ago in Tanzania!! Seeing again people that we met on the road is so nice!!!
We were supposed to stay 3-4 in this big city but we ended up staying a whole week!!! And we didn't get bored, there are many things to do around: historical places, popular places, games with kids…
BA is one of the biggest cities in South America and has a strong past. Thanks to Leo and his great knowledge (I think he is ready for "Who wants to be a millionaire"), we learnt a lot of things!
Spanish colonialism left a nice architecture behind and it is really lovely to hang around and walk in the old town.
Do you remember when I was talking about the "Libertador" San Martin who died in France in Boulogne-sur-Mer? (His Mausoleum is in BA's cathedral)? So this revolution for independence took place on the 25th May 1810. The main place in Buenos Aires, in front of the « pink house » (or Casa Roasado), the presidential palace is so called « Plaza de Mayo » (place of May). And this place also symbolises another historical event: "the mothers of the plaza de Mayo". After the military pouch in 1976, many children "disappeared" mysteriously and these women demonstrated, wearing a white scarf, to get back their kids!!
But there are also funnier things: did you know that Mafalda was from Argentina? Or that the Argentinian empanadas are cooked in a hoven and not in oil like in Chile? Or that every single Argentinian has his therapist? (We laugh a lot when we heard that but if you don't have a therapist, you have a problem!)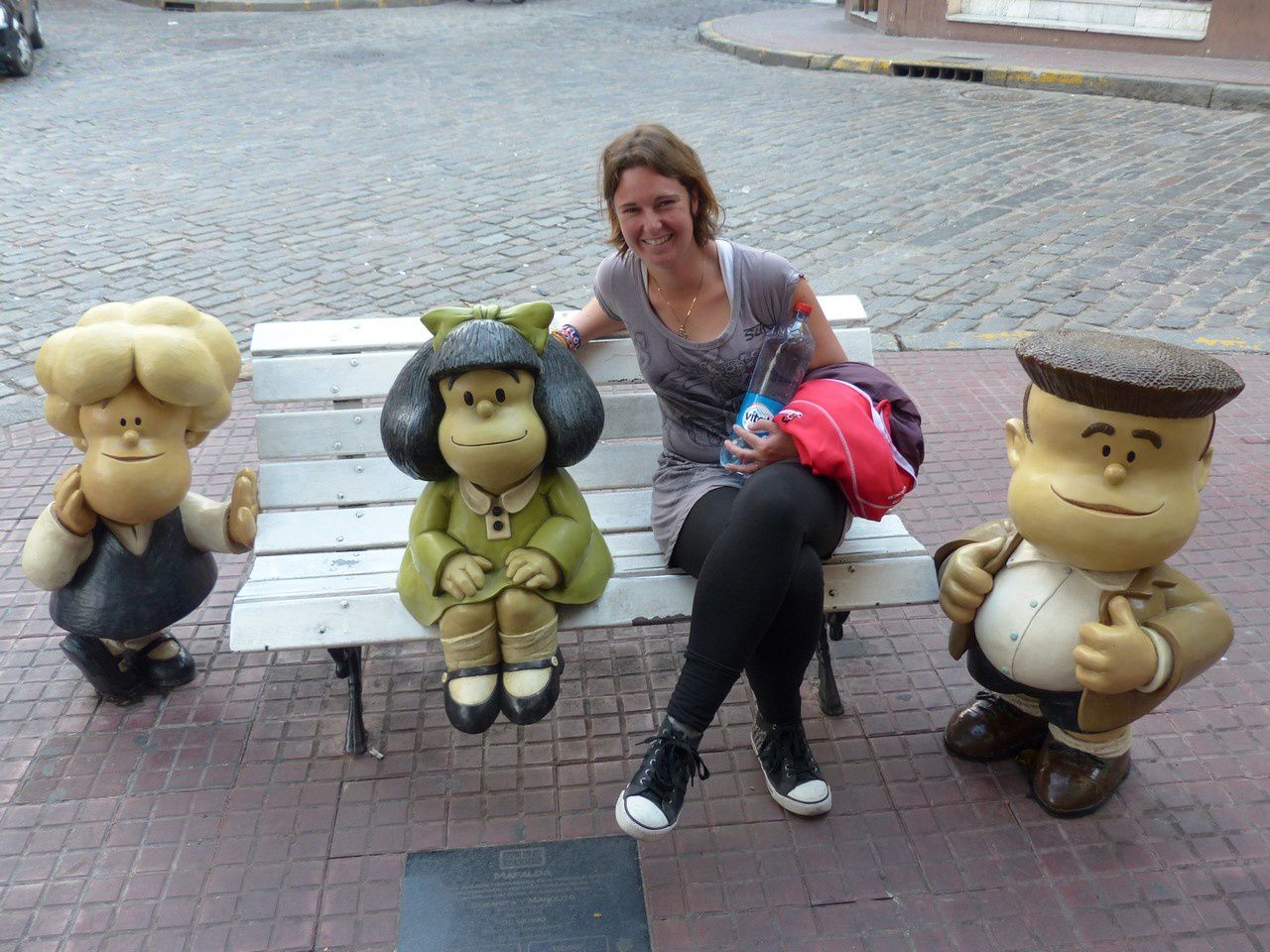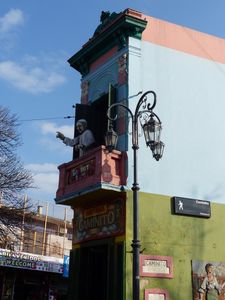 And speaking about BA you think of "La Boca", this popular quartier with colourful houses. Even if Leo did not recommend us to go there (as some places could be a bit dangerous), we couldn't leave BA without visiting La Boca (We are tourists also!!). This fishermen place (before the river got too polluted) was a zone full of immigrants. The flag of La Boca is yellow and blue… just because when they decided to adopt a flag they said "we will take the colours of the flag of the first ship entering the port"…and the boat was from Sweden! We really liked the houses "like the postcards" with flashy colours but we hated the over-exploitation of the place by the tourism: Except from restaurants, souvenirs shops and tango dancers whit no passion, there is nothing else! Luckily Leo brought us in a milonga: a place where people young and old meet to dance Tango with passion, so we could feel the spirit of this dance!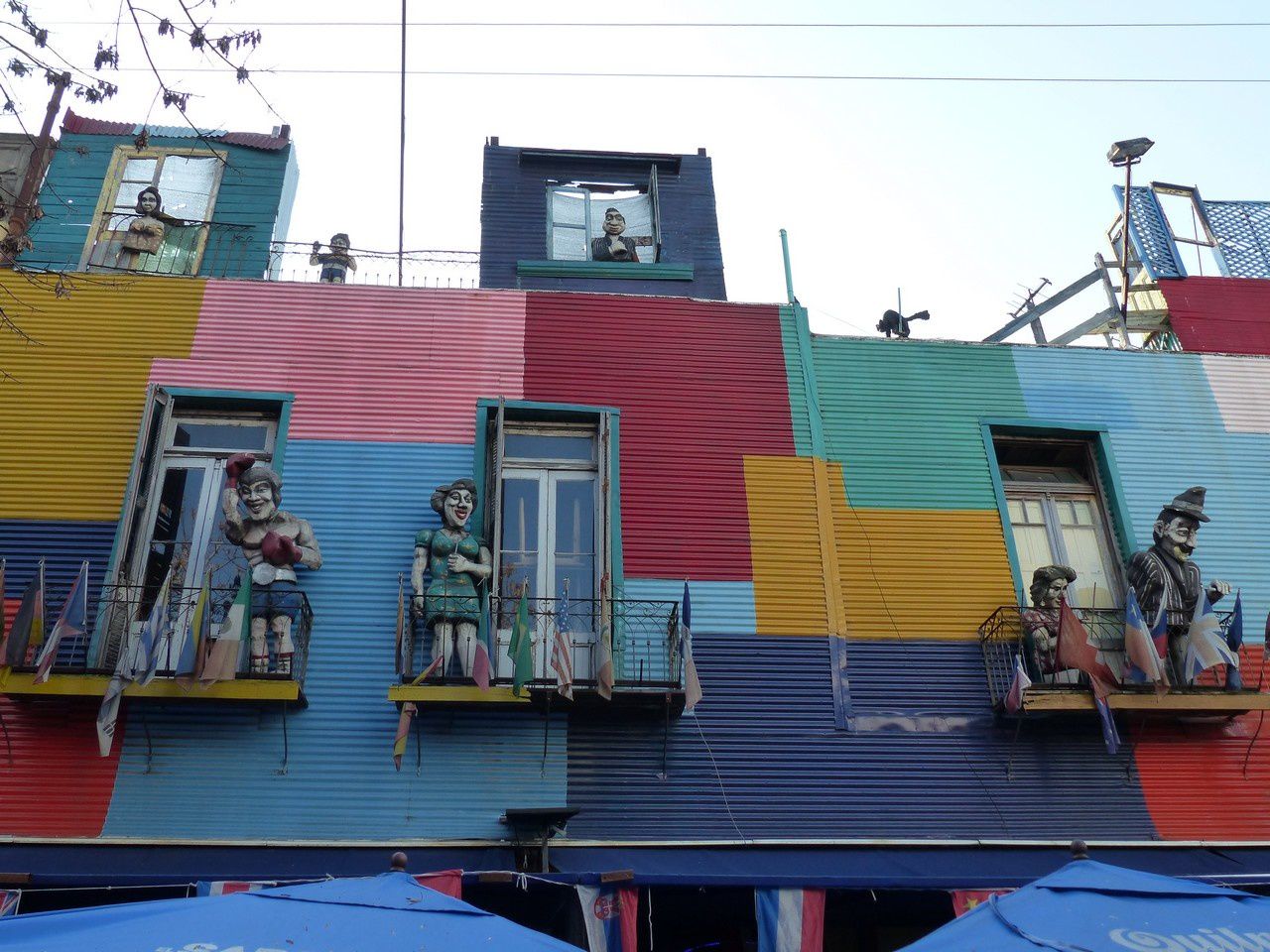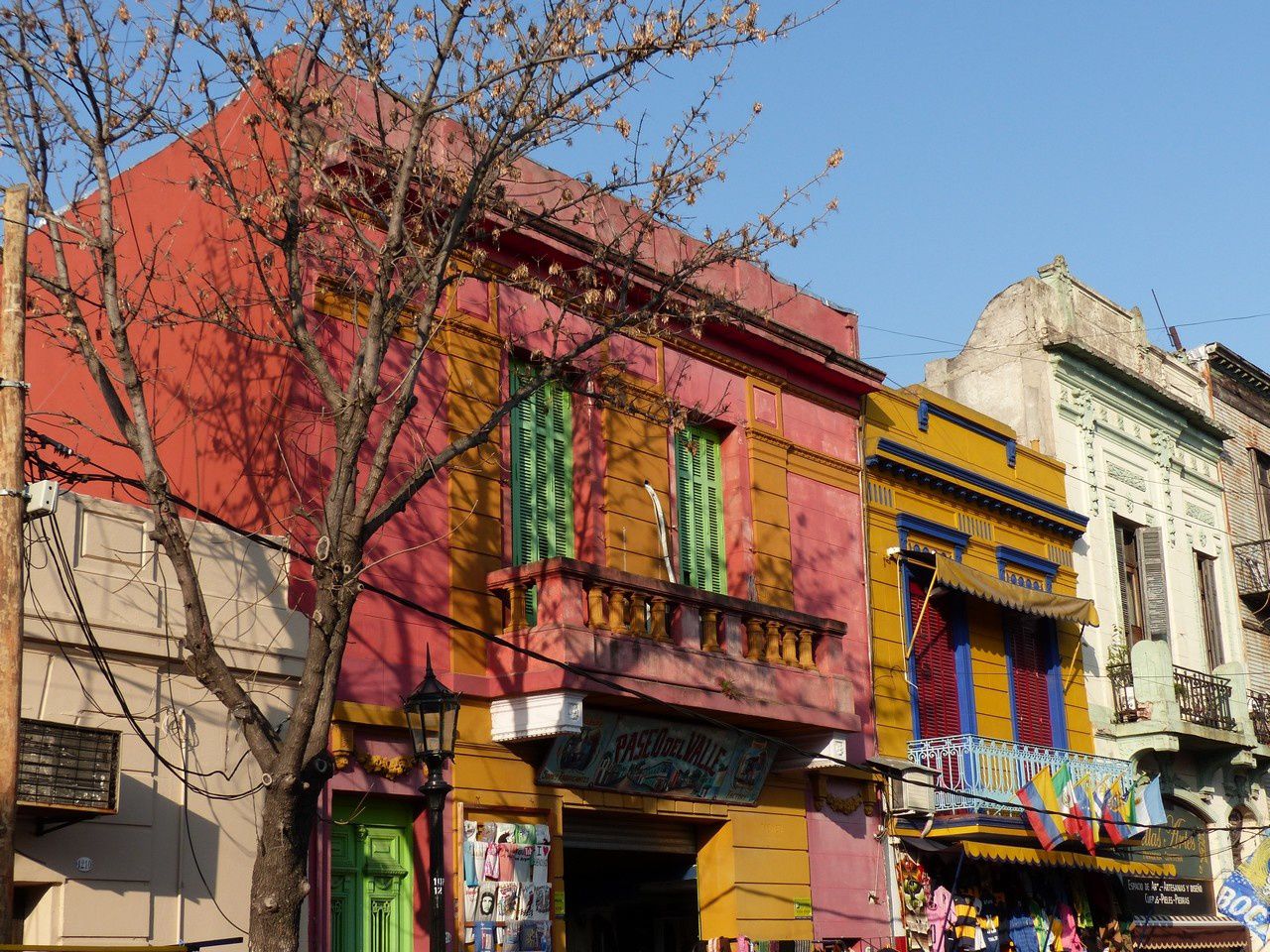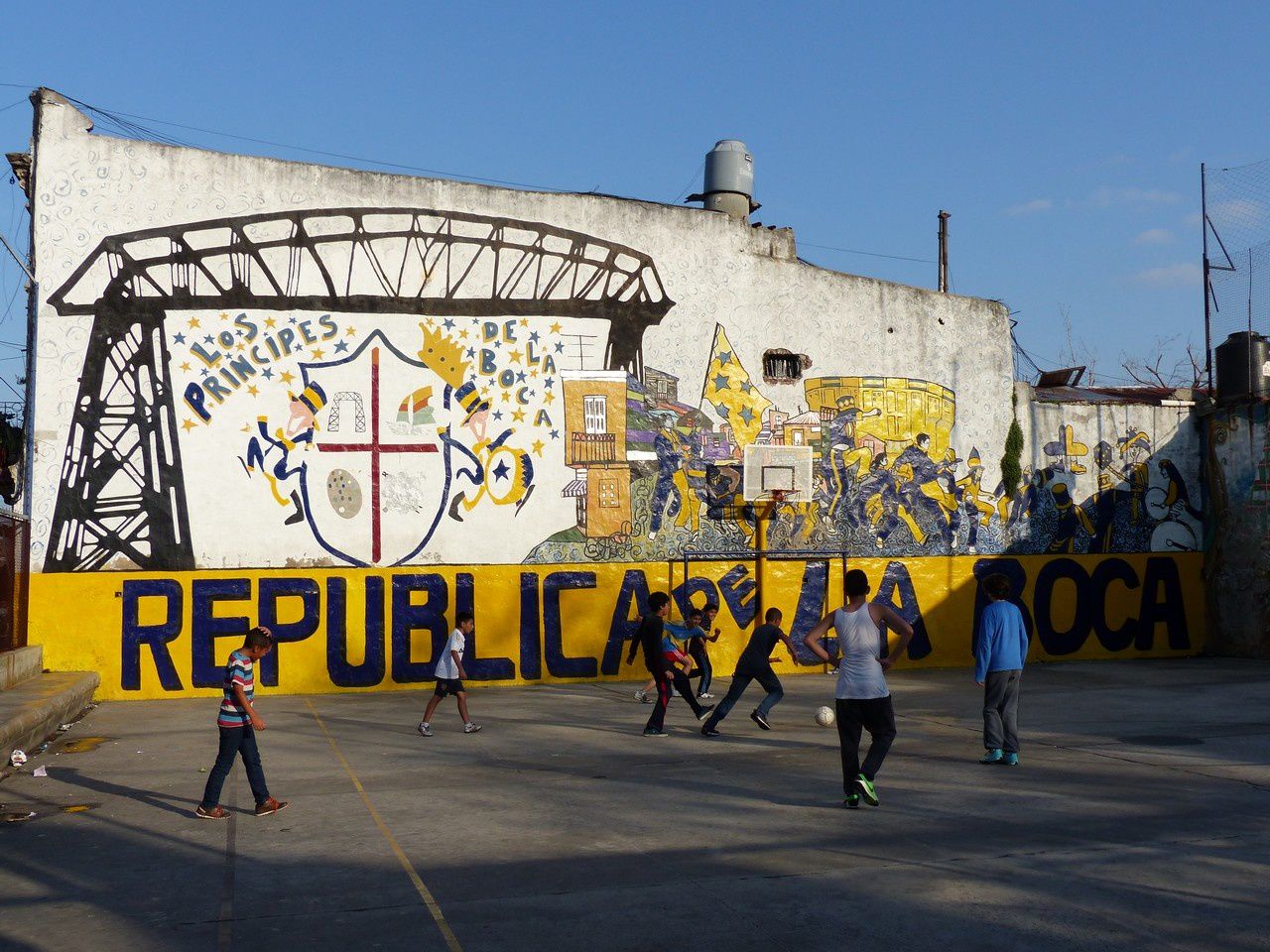 To finish with a perfect touch, we went to a soup kitchen and played with the kids. You have to know that in 2001, Argentina suffered from a huge economic crisis. In December the country got 5 different presidents in 7 days (and the last one escaped from the presidential palace on a helicopter). Rosane, a modest woman, decided then to help who were more in need than she was and she started the soup kitchen "Comedor las Manitos". Today she prepares meals for 250 people everyday without waiting for something in exchange! What a great person!!! But we didn't come there to cook, only to meet the kids!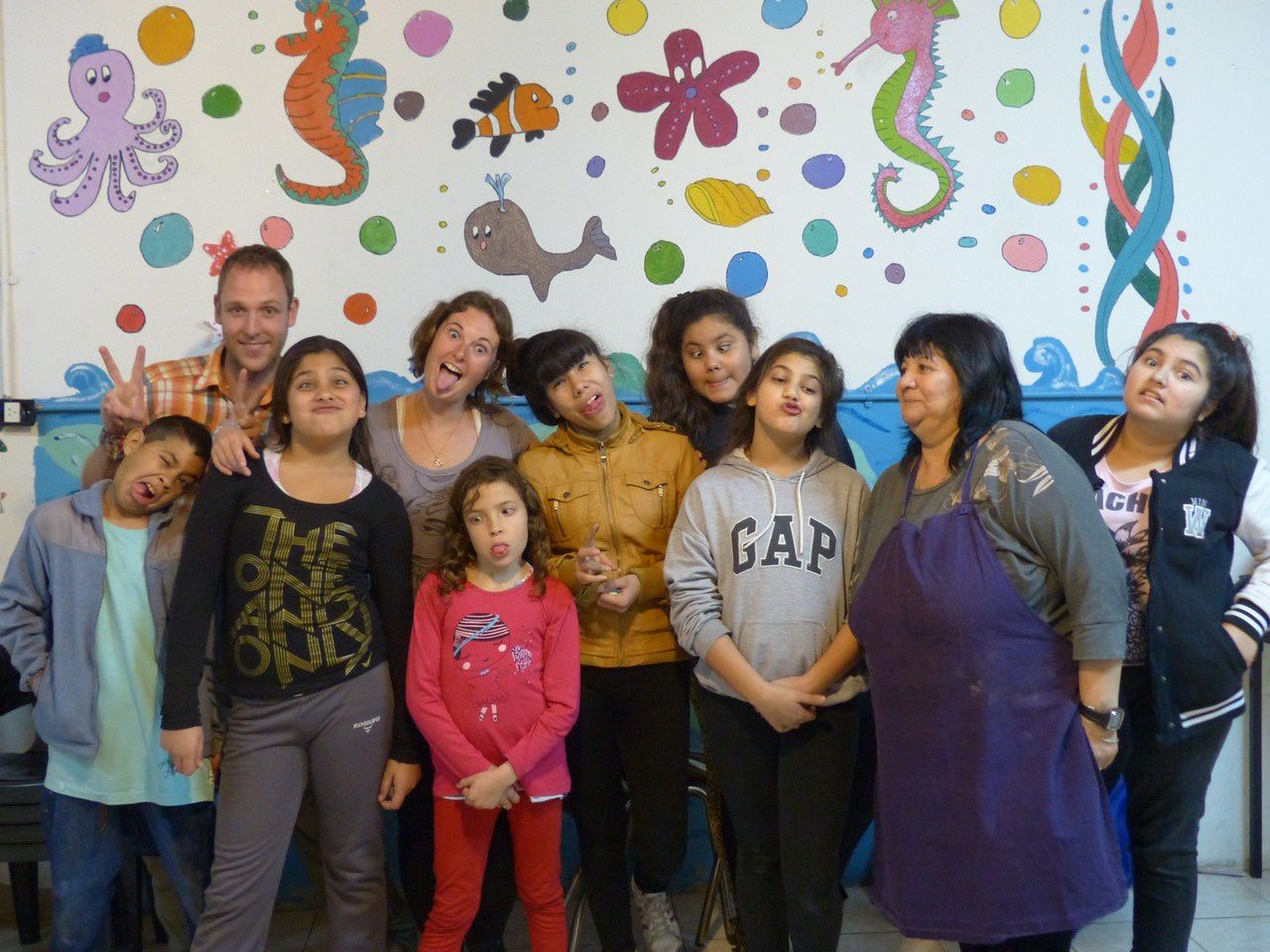 Unfortunately it rained a lot when we were there, so it was impossible to play outside… But we had a lot of indoor fun ;-)! After "green light/red light", few songs, the musical chairs, and the master; kids loved the killer game but most of all they enjoyed doing some scoobidoos! We took some with us and after few minutes of explanation everyone managed to do it alone!!! Wahoo, so much happiness despite all the difficulties… It is so impressive!!! We respect them a lot!!! Many thanks also to Candelaria (our guide from Anda's tour who helped us translate and who was really friendly!!!) We had a great time and are waiting for the next one soon, somewhere else!
Now we are heading to Iguazu! We can't wait!!!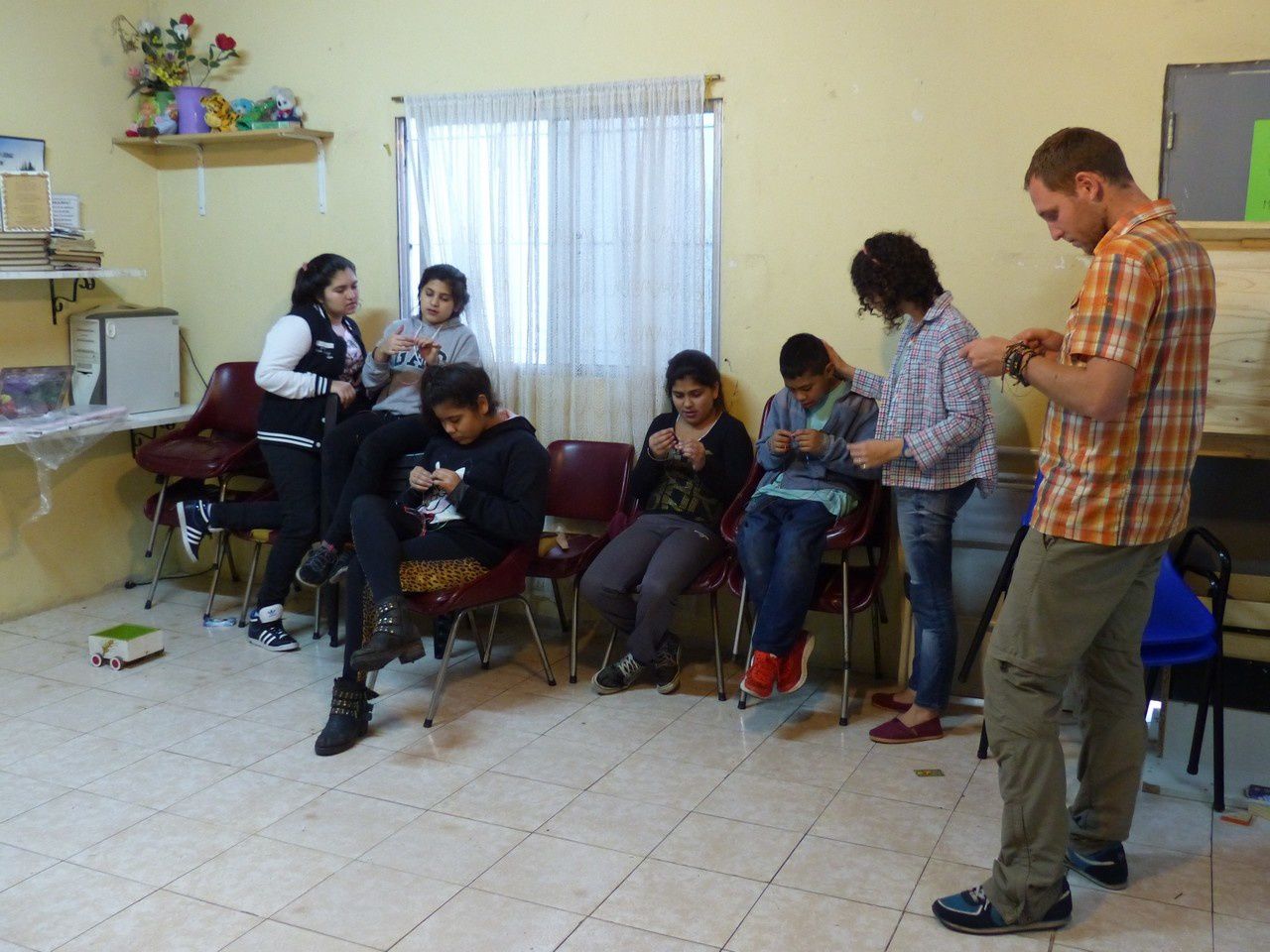 To be informed of the latest articles, subscribe: