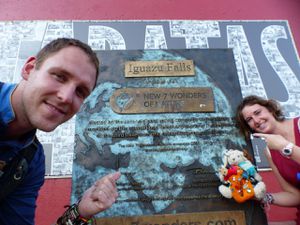 You probably heard about the Iguazu falls, 3 times bigger than the Niagara Falls and even larger than the Victoria Falls!!!
The « Cataratas de Iguazu » are at the border between Brazil and Argentina; they measure more than 2,7km and are composed by 275 single falls. The highest are 90m high! So we couldn't miss it!
This place is elected "One of the New 7 natural Wonders" and we understand why! We could stay in front of it for hours!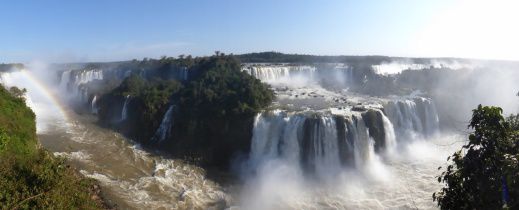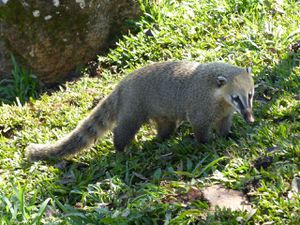 In the middle of the Jungle, Iguazu national park has got a lot of animal species. We could spot some curious coatis, cute monkeys, colourful toucans, loud woodpeckers… and a lot of butterflies!
Fortunately the weather was warm and sunny because the falls are so huge that you get wet really fast (in average 1500 cubic metres fall every second in the dry season) ! So it is not a surprise that the fals are alled "Iguazu" which means "Big waters" in the Guarani language! And even if we didn't get wet while walking along the falls, we would have been anyway as we decided to see the falls from very near: by boat! Our raincoat was useless, we jumped out of the boat fully wet from top to toe but smiling… (With a lighter porte-monnaie)!
We finished our visit with the most impressive falls: "El Garganta del Diablo" (the devil's throat). This place is composed by 12 falls forming a semi-circle. When you walk on the platform going to El Diablo, you first hear a big sound and then you see "fog" (water ejected from the falls) and a big "hole". You then feel it is like the end of the World and the Earth is falling into this huge hole! Wahou, I can't find words to describe it!
The more you come closer, the more the spectacle in front of you is impressive. Billions of litres of water flow every second in front of us. Rainbows appear as quick as they disappear because of the wind and the water drops. We can't speak in front of this beauty. One minute passes, 2 minutes, then 10… time stops, we just look at the falls without feeling the time passing by. Unfortunately we have to leave. Bye Bye Iguazu, but we won't forget you. One of the most breath taking places so far… So please, book your air ticket soon!
We leave the marvellous place after eating a delicious piece of Argentinian beef ! Now we are heading to Salta, our last place in this country!
To be informed of the latest articles, subscribe: