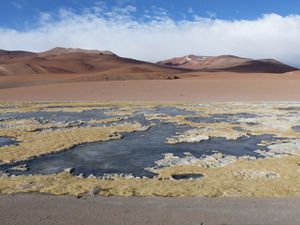 As we did not visit Patagonia (because it is winter time), we could not pass without visiting the driest desert of the world!!! So we went to San Pedro de Atacama (in the desert of the same name)!!! We loved it!!! Between incredible landscapes and interesting legends, we had a great time!
With Mathieu and JB, two French we met at the campsite, we visited "el salar de Tara". We had an amazing view of the desert and of the Laguna and Gino, our guide, also told us a really nice story about the volcanoes around here: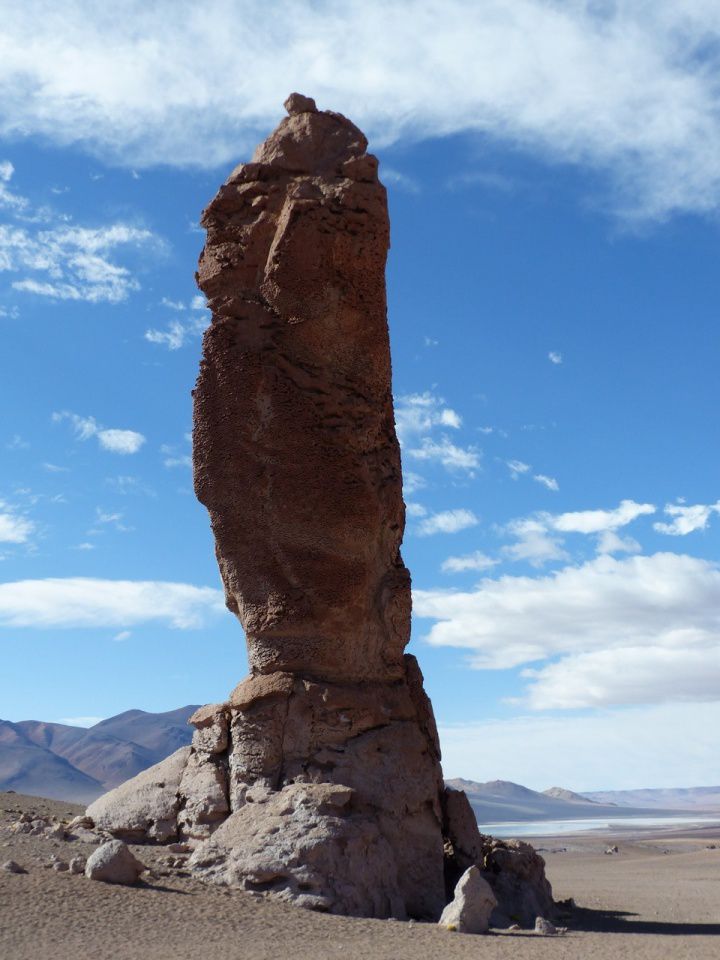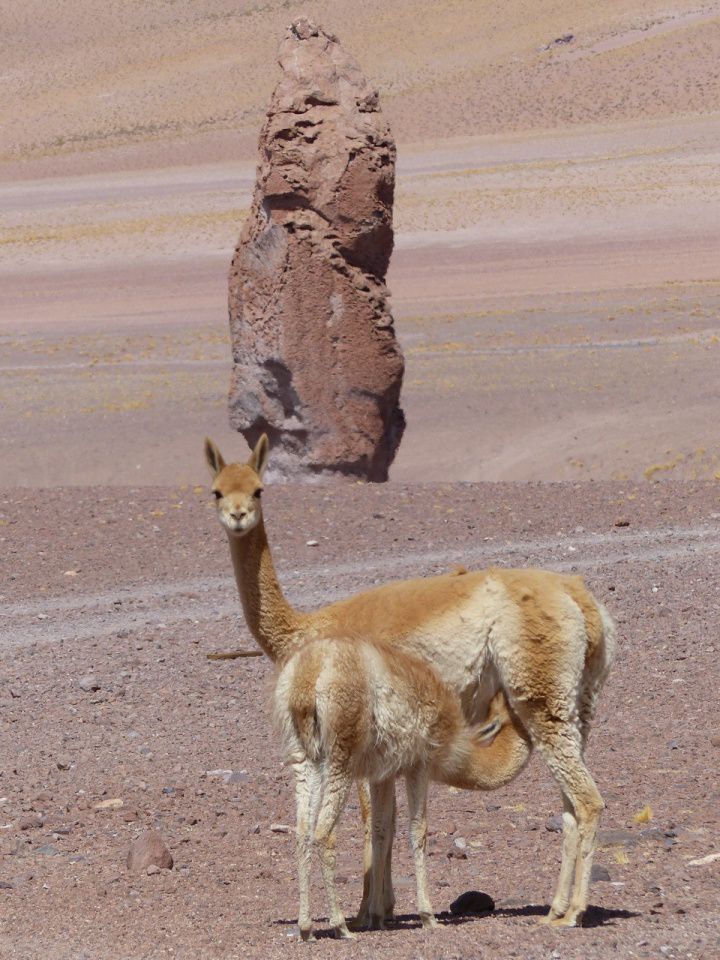 We stopped in front of the volcano Licancabur (which means "Mountain of the folks"), which lays between Bolivia and Chile. This almost perfect conic volcano was always a respected volcano and people came here to make some sacrifices in order to satisfy Licancabur (Archaeologists found 3 mummified bodies of children) and Gino told us a beautiful legend.
Licancabur lived with his brother Juriques and he fell in love with the beautiful lady volcano Quimal (which was at that time (a long long time ago) near Licancabur, in the current "paseo de Jama", gateway between Bolivia, Argentina and Chile). Everything was fine; even Lascar, the bossy father of Licancabur gave his blessing to the young couple. But one day, Quimal and Juriques had an adventure together. It could have stayed a secret but Cerro Teco saw everything. As he was a good friend of Licancabur, he told him everything. Very furious, Licancabur cut the head of his brother (Juriques means "without head").
Laskar fell into a fit of rage and erupted. All the region was full of ashes. He was so upset that he put all the responsibility on Quimal and exiled her. Quimal is now more than 100 km away from her husband.
Laskar calmed down but Licancabur, even after the truth, stayed full in love with Quimal. He cried, and cried and his tears formed a lake inside the crater which never freeze. Every year for the summer sunset, his shadow strokes the sweet Quimal, as a last act of tenderness. This time of the year means fertility for the people of Atacama and it is time to cherish the ground. Each plant which grows is like the baby of Licancabur and Quimal…
Of course, like many legends, you can hear different versions, but was is certain is that love is at the origin of many things…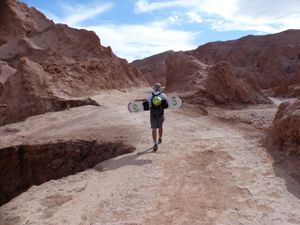 Romain then tried sand boarding in the Death Valley! Not really "sensational" for him but fun to try once… At least I laughed a lot when I saw him fall!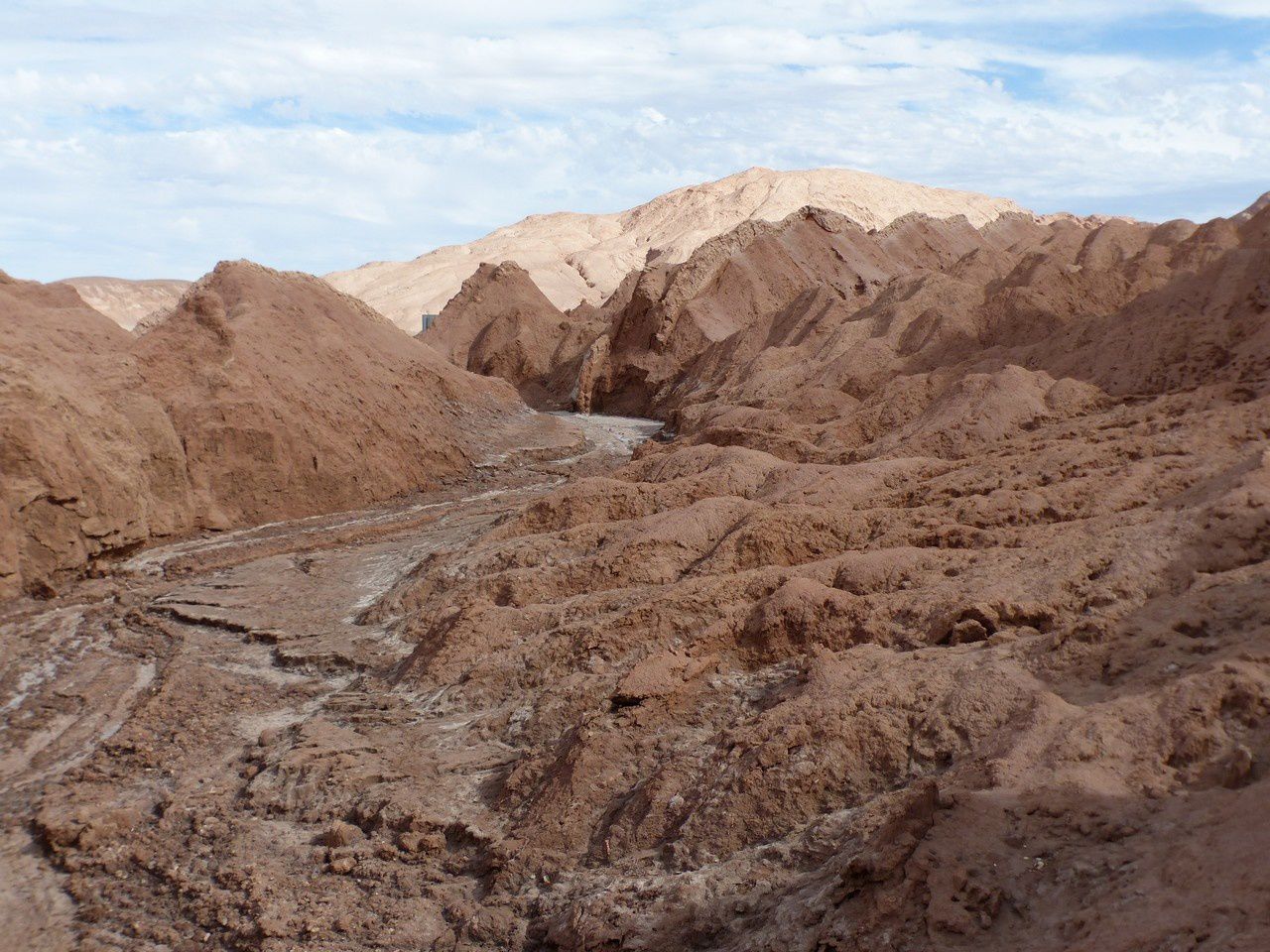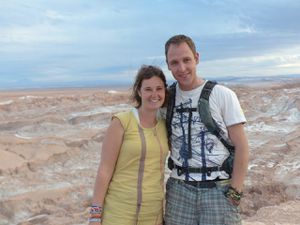 To conclude these few days in the desert, we went by bicycle to the Moon Valley! In addition to the beautiful landscapes, we also spent a lot of energy… 32 km of bike with many hills and a dirty road… It was exhausting! But at least we were not packed in mini buses with many tourists and we could enjoy the place to travel in another world…
Small anecdote: We also spent an evening with Sam (Romain's colleague) and his brother, who were supposed to Ski in Central Andes but as there was no snow they decided to finish their holidays in San Pedro!
Chile is done for now ; let's go to Uyuni and its famous salt flat…
To be informed of the latest articles, subscribe: