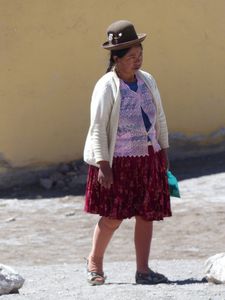 Who said that water is blue, that a white ground is obviously snow and that a rabbit can't « fly » ?? We didn't… We went on a 3 day tour in the South of Lipez and the Uyuni salt flat and we saw incredible things !!!
The Uyuni salt flat is the biggest salt desert in the world. It is 150km large and 100km wide and 3600m above sea level. It was formed a long long time ago (more than 10000 years) when a giant lake dried up. In this salt flat, there are 50% of the total resources of lithium (used for electrical batteries).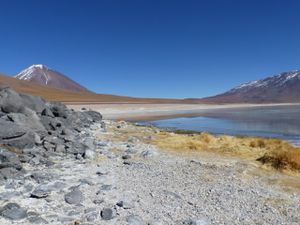 But before to arrive in the salar, we drove through several alti-planos; (high altitude plateau) where we saw beautiful landscapes.
In this volcanic region, there are many lagoons. Lagoons are like lake but very shallow and with a lot of micro-organisms. The first lagoon, called "Laguna Blanca" (white lagoon) has got this name because in winter time it is frozen and looks white… But the spectacle became more impressive in front of the « Laguna Verde » (Green lagoon), which has green water… because of a toxic micro-organism present in the water.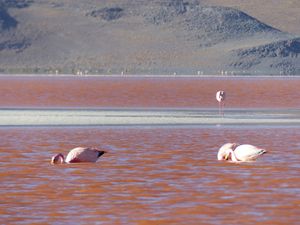 The finish was even more incredible as we went to the « Laguna colorada » (coloured lagoon)… and it isn't coloured in a normal colour but in red!!! Yes you read it correctly, in RED!!! And with all the flamingos and lamas it was a unique experience.
While talking about animal, we also saw a « nephew » of Pomme Pidou. "The Andes rabbit". His head looks like the one of a rabbit but his tail more like the one of a squirrel. This animal is very agile and can "fly" from rock to rock.
As the region is volcanic, there is a huge geothermal activity. Some of the geysers are only water geysers, while some others are muddy ones… Grey, red and greenish bubbling mud… It remembered us NZ!!!
Between the lagoons and the geysers, the landscape is sometimes rocky, sometimes desert, but always nice !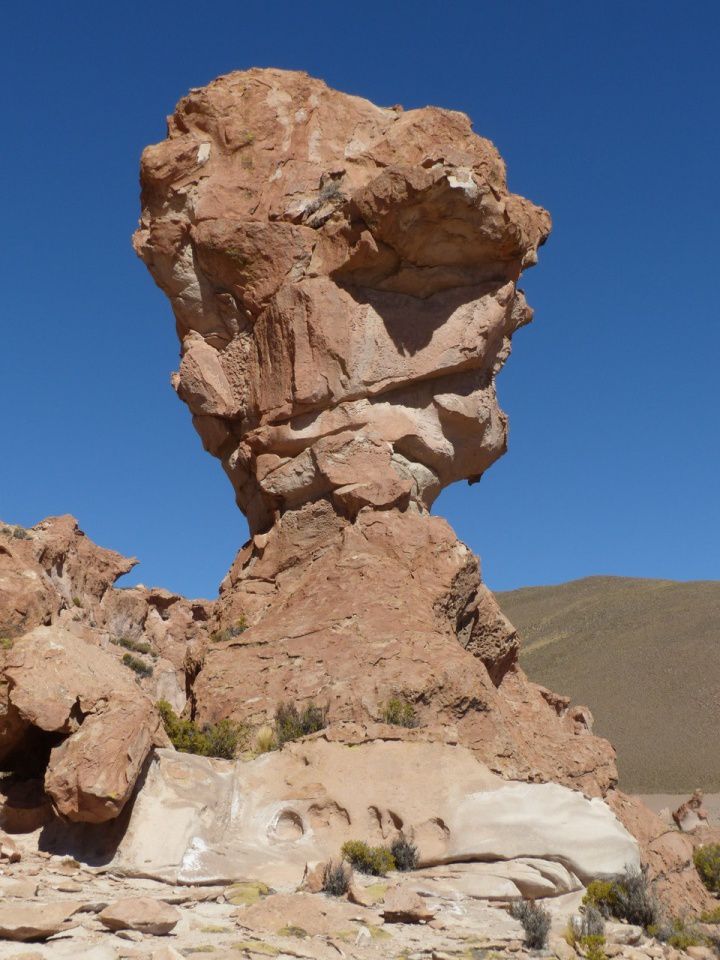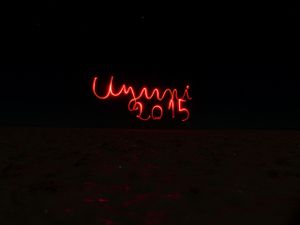 The night before going to the salt flat, we spent the night in a salt hostel. Walls, floor, furniture, EVERYTHING is in salt!!! Nice, isn't it? And we also had the chance to go on the salt flat at night to watch the stars! With the moon and the white floor, it was really bright…we even had a shadow!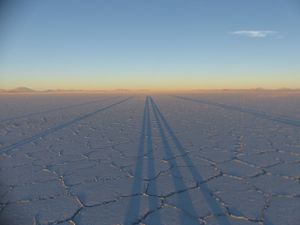 After a good night, we finally discovered the salar in the day light… We were not disappointed!! After watching the sunrise, we went to an "island" in the middle of the salt flat. On this island there are many cactus that are more than 1000 years old. From there, we had a spectacular view on the salar. We finished this day with "classic pictures"… A unique background, a blue sky… We don't need anything more to have fun…
Our 3 day trip is already finished, we loved it… Our "best of" landscapes becomes harder and harder and our adventure is still not finished…. We think that we will come back to Uyuni during the wet season to see the "mirror effect"… It sounds really nice to walk on the clouds, don't you think?
Next stop, Potosi, a miner city !
​
To be informed of the latest articles, subscribe: