After our tip in Jurassic World, we went to La Paz. It is not the Capital city of Bolivia but "almost". Actually the President lives in La Paz and 2 of the 3 democratic powers are in La Paz: Executive and Legislative. Only the Judiciary is in Sucre, the constitutional Capital.
It is really impressive when you arrive in La Paz, that the city in built in the mountains. The average altitude is 3600 metres above sea level, and only few streets are flat… It is already not easy to walk at such an altitude, but if you add steep streets, it is even harder!!!
But to move around in the city, you have many options to use instead of walking: One of the best is the lift (Now there are only 3 lines but in 2 years the whole city should be connected…), the "collectivos": small minibuses with predefined routes which stop when you want, "trufis": the same as collectivos but instead of a minibus it is a private car, taxis: you know what it is but here you have to negotiate the price (when you're not a local) and sometimes they don't want to take you where you want…, "Pumakataris": Municipal buses which look like European buses with predefined bus stops. With all of these options you can go where ever you want without spending a lot of time and/or money!!! But if you really want to walk, nice "zebras" will help you cross the street!
While we were in La Paz, we did our second trek in autonomy: 3 days to do "El Choro". A priori it looked easy: you start at 4700 metres above sea level and you arrive at 1700… Actually it was not so easy. Going down is more difficult than going up (at least for the legs)… and more over when the path is an old Inca way made with irregular rocks! We left at 11AM, Romain with a 14 kg backpack and I with 11kg (we need tent, mattresses, sleeping bags, cooking equipment, warm clothes and 4 litres of water (that we can refill along the way)), and we started with a positive climb of 200 metres in the cold wind! But the view over the lagoons was beautiful!
After that, the unfinishable descent started. We met few lamas, ruins and lost villages. (We don't know how these people go to ton, as there is no road for car even 4WD…).
6 hours later we arrived at the campsite, with burning legs!!! We really enjoyed our warm meal: Pasta à l'arrabiata.
The next day was the longest and hardest day: as we were already low in altitude, the air was hot and humid, and even under the trees we were sweating. We went down again, crossing a river sometimes where we could refill our water bottles, and then we went up… again and again… we finally reached the camp after 9:30 hours of walk and more than 30 km…
Fortunately, the last day was short : only 2 :30 hours to finish the trek. We took the bus back to La Paz where we had a merited hot shower after 60 km in 3 days!!!
It was a sporty challenge, we now know that we can trek alone for few days but we are a little disappointed by the landscapes. The first day was really nice but the last two days you are in the middle of trees and you don't see a lot of things… But we did it, now we are ready for the Machu Picchu!
Finally, we visited the French School (we were missing it!)! This time, we spent time with 2 classes of 7 year-old children. Not like other French schools we visited, the majority of the children here were not francophone but had Spanish as mother language. So we sometimes had difficulties to make them understand all what we had to say… Anyway we got a lot of smiles and Pomme Pidou got a lot of beautiful drawings!
We didn't discover new games but we discovered the Spanish version of them. For exemple "frozen tag" is called "Sol y Hielo" which means "Sun and Ice"; "duck duck goose" is "Pato, pato, ganzo" and "Hide and seek" is "Escondidas". Hopscotch is translated by "Tuncuna".
As usual the « killer game » was quickly adopted by the kids…. The same happened to the game "Fish and fisherman".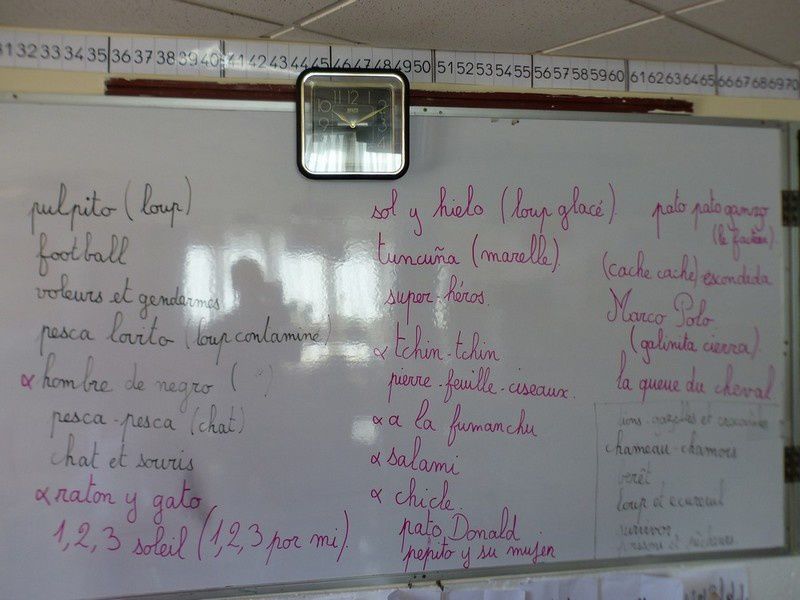 Now the kids are in holidays and we are going to Titicaca Lake… but before that, Romain achieved something special: he climbed a 6088 meters high mountain! I'm really proud of him, it wasn't so easy because it as cold and with a lack of oxygen. CONGRATS!! (I preferred to stay fit for the 5 day trek to the Machu Picchu that we will do next week…)!
A big thank to the 2 Delphine who hosted us for few days… It is always nice to share some moments "à la Française"!.
PS : We don't have a lot of pictures of the city because our camera broke… and we had to wait a friend coming back from France with a new one (because here, either you go in a real shop and it is really expensive or you go on the black market and you don't have any receipt and you're not sure that the product you have I a fake one or not…)
To be informed of the latest articles, subscribe: