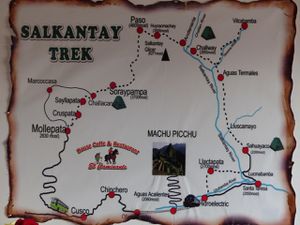 The best way to get to Machu Picchu is to enter by the sun gate ... But to do that, we have to walk three days on the old Inca Trail ... Yeah it sounds amazing... but nowadays, this trek is limited to 200 visitors a day ... and you can imagine that it must be booked in advance (at least 5 months ..) ... We were too late to do it ... But no regrets because the Inca trail is excessively expensive (exclusivity has its price ... on average $ 450 for 4 days and 3 nights). So we found an alternative just as nice: The Salkantay trek (which has been ranked one of the 25 most beautiful treks in the world by National Geographic, haha ​​;-)) dominated by Mt. Salkantay, which means "wild mountain" ... it bodes well!.
No porters, guide or mule, we decided to go on our own for 4 days hiking and one day in Machu! .. Well, finally we were not really alone, we each had a couple of kilos (15) on our back in order to "survive" this trek in autonomy!
We woke up early to reach Mollepata the beginning of the walk. There are two options open to us: either we started walking from the village, but this part of the trek is not beautiful, since the path is actually the route taken by the trucks ... so you will swallow a lot of dust! or we could take a transport to Soraypampa. This second option has the advantage of making us avoid walking along the road with an elevation gain of over 1,000 meters, and it also allowed us to pass the Salkantay pass on day one, and therefore give us the possibility of sleeping on a lower (and warmer) part! (the pass being at 4600 meters, it's cold up there!).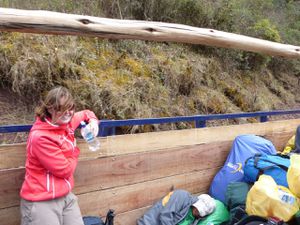 We found a truck used by the guides (of organised tours), to carry the bags and the food, which was okay to take us up to Soraypampa. After 2:30 in the truck, hair flying, we arrived at destination. From there, we could already see the pass that we would have to cross, some 800 meters above !!!
We took our walking sticks, adjusted our bags on the back and we left. Having 15 kilos on our back and climbing at 4000 meters of altitude, it is not the easiest thing ever …but as the Machu Picchu awaits us on arrival, we were highly motivated!
5 hours later we crossed the pass !!! What a relief !!!! We deserved a snack break !!! And as we don't want to sleep too high in altitude, it was still 2:30h of walk until we reached our refuge for the night! We will not be disturbed by the neighbours because we are alone (in this free camping !!)! After a good pasta meal, we crept into our sleeping bags until dawn! (Note however that Romain hurt his back at 3AM, wanting to photograph the stars ... hope it gets better tomorrow!).
The second day of the trek was a little less tiring than the first (and Romain's back gets better!). Many downhill walk, arriving at the entrance of the jungle with a warm and humid climate ... Unfortunately with this warming, we have seen "itchy" mosquitoes arriving! Just as we stop to rest a little bit, these insects fall upon us, bite and we are covered with red spots ... ! We followed the sacred river a long time before arriving at our evening camp! It's still good to put off our bags, take off our shoes and take a shower (well, as is the water of the river, so it is freezing... but at least it is refreshing!).
The third day was the most difficult. We followed an Inca path (not "THE" Inca Trail, but another ...) who took us 700 meters above ... So with the accumulated fatigue of the first two days, the heat and the flies ... we just suffered ! Fortunately, when we got to the top, two awards awaited us: Inca ruins and our first glimpse of Machu Picchu !!! We are looking forward to it !!!!
The fourth day was granted a rest day (well deserved); so we went to Santa Teresa and we enjoyed the thermal baths. It really feels good ... We went swimming, we played cards, ate pizza ... So we recharged our batteries.
On the morning of Day 5 Romain hurt again his back ... Grrrr !!! But as our tickets for Machu are tomorrow, we can not rest one more day !!! With great pain for Romain, we finally reached Aguas Calientes, the town at the foot of Machu Picchu, walking along the railway line for 2h30. Well, now it is time to rest because tomorrow is the big day !!!!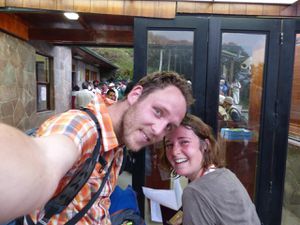 D-DAY !!!!
Wake up at 4am! We want to climb the 1,700 steps that separate Aguas Calientes to the entrance of Machu Picchu and arrive before the first bus (and before the opening at 6 hours). Unfortunately we didn 't know that the bridge (which allows access to the steps) does not open until 5AM! We waited one hour in front of the gate and started "running" when it opened, followed by hundreds of other brave climbers. Romain went ahead, I followed him from afar. 35 minutes later Romain arrived first; I arrived about ten minutes after him (having been overtaken by fifteen true sportsmen ;-)) and was happy to join him at the gate !!! Here it is, another dream come true: in a few minutes we will discover one of the 7 new wonders of the world ... and in addition we will be the firsts to enter !!!
6AM, the gates open!!!! It is not the time to rest after our frantic ascent .. There are more than 3,000 steps over Machu Picchu site, and as we have our ticket to Huayna Picchu, it is necessary to be fit !!!
Wahouu first glimpse of the lost city of the Incas! There is a lot of fog, but we are already impressed!
Machu was built at the end of the 1300's and abandoned (still unfinished) in the 1530s with the arrival of the Spanish conquistadors (although no trace indicates that the Spanish arrived to the sacred city.) .
It was an agricultural, religious and astronomical complex. We can see the "Inca Face" formed by the mountains behind Machu Picchu. Huayna forms the nose.
The "Lost City of the Incas" was rediscovered in 1911 and has been visited by many tourists. This wonder was declared World Heritage by Unesco and we understand why.
Only few minutes after entering the site, we were conquered by the beauty of the scene in perfect harmony with the surrounding nature and the mystique of the place. Highly sacred place for the Incas, we can only try to imagine what it was like at the time of its peak.
Bad luck for us, it started to rain a lot ... We took the opportunity to find a dry corner where we stayed dry to rest. The rain finally disappeared, letting some clouds behind ... Yes we would have preferred a beautiful blue sky, but we are already impressed even with this weather, so no regrets.
We then climbed the steps of Huayna Picchu !!! Our legs have suffered but being two of the 400 privileged that day to be able to climb this mountain is a beautiful gift! And even though the sky was still white, we had a clear view of the city of Machu. We then went to see the Temple of the Moon, (that very few visitors see because you have to climb up and down a lot of steps) and then went back to the sacred city.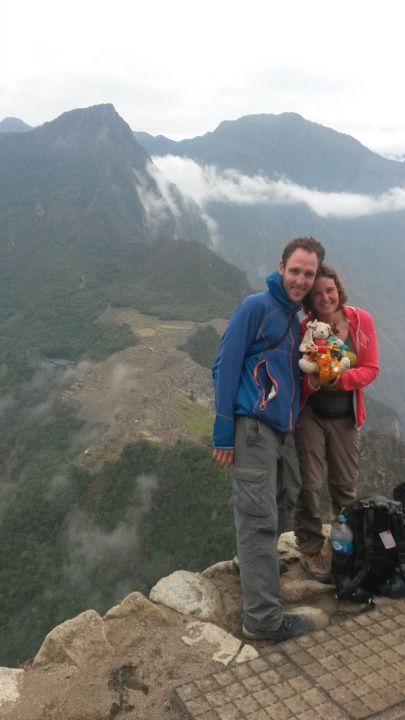 At 1PM many tourists start to leave the site. So we had the place to ourselves (or so ...) and THEN we saw the sun ! Wow, just amazing; Machu under the sun !!! Finally !!! It's just .. incredible; the color of the sun on the houses; the lush forest that is tinged with his finest shades of green, the sky shyly shows its pretty blue ... We leave the Earth a few minutes, forget pain and fatigue and we remain there to enjoy the show !!! It's magical and we are there; there in front of this wonder; there in front of this human construction which still holds many mysteries, then after 5 days of walking which have not always been easy, there after a crazy race in the steps at 5AM, there after so many times we saw Machu on pictures or on TV ... This time it's our turn, we thoroughly enjoyed, we tried to store in our minds each second ...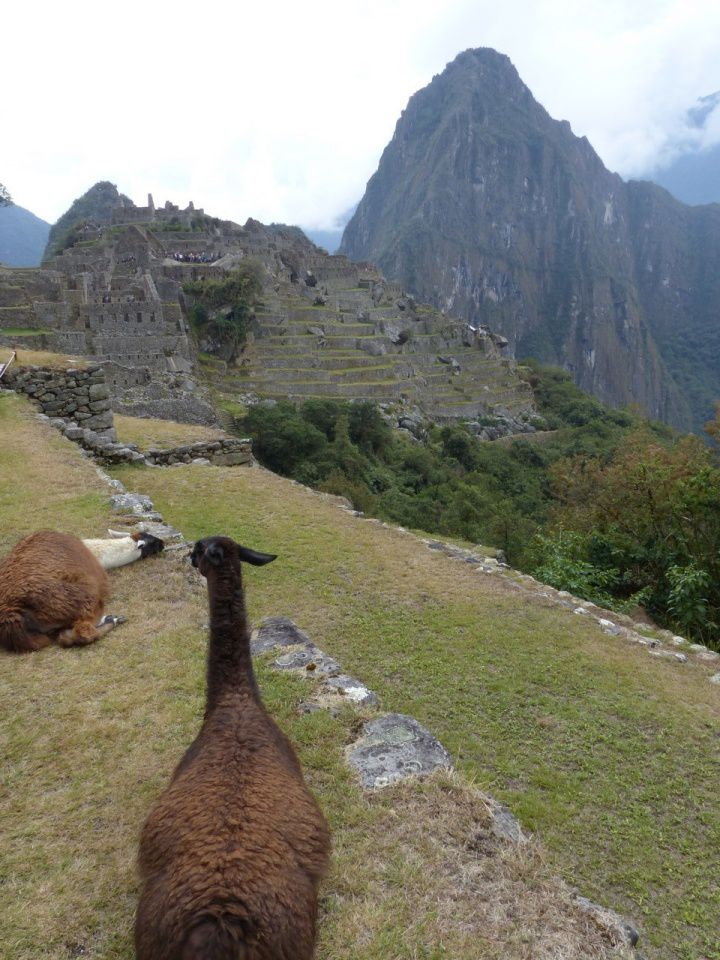 But all good things have an end; the doors will close, so we left with the last visitors .. without forgetting to stamp our passports! It's not every day you visit Machu Picchu !!!
We loved this day, we are exhausted, we gave everything we could but if we would have to do it again, we would do it exactly the same way ... It is such an enormous satisfaction to arrive at the top of Machu Picchu after all the efforts ... It will probably remain one of our favorite memories of Peru, and maybe even of our trip ... So, when you have a goal you are able to exceed your limits ... We encourage you to believe in your dreams, whatever they are ...
We will rest, but stay tuned for the rest of our adventures!!!
To be informed of the latest articles, subscribe: