We just arrived in Costa Rica, and we started with the southeast of the country in Cahuita. After puting our tent in a very nice hotel, we went to meet the natives of the Bribri community. We were warmly welcomed by Luis and his family. He explained us the use of various medicinal plants. From back pain, to kidney stones and bronchitis or painful periods, everything can be cured ... but sometimes you have to be patient and above all respect the indications !!! The "monkey staircase" is used against lower back pain; the "tapir foot" against painful menstruation. The tourist tree (so called because its bark get red in the sun then falls, as when we peels ..) is used against fever, vomiting and diarrhea. The "Corazon del mar" is a large seed used as a natural way to cauterize: rubbing against the wood it charges itself with electricity and a discharge is felt when in contact with the skin. It is not very nice but it is effective (we tried!). We also tasted an infusion of Quinine. This is really not good (really not good at all) but it is used to fight against malaria and is also a natural mosquito repellent! But what is really amazing is the boa venom we tasted!!! Yes yes, you read that right: the boa venom. It is used to fight against asthma and various respiratory problems. Here again it was not good ... but you could not miss this unique experience !!!
The more common plants used by the Bribris are also lemongrass, ginger, turmeric, cinnamon ... Other plants are used as natural colorant and lipstick !!! (more orange than red actually!) ... So the forest contains many virtues, protect it !!!
After a meal served in a banana leaf, we tried shooting with traditional bow, with blowpipes and even a natural "micro": a shell! Lots of laughs but also great respect, all traditional knowledge is impressive.
The Bribri community is also known for its chocolate. (As dark chocolate is good for the body and mind, remember!). The pods are picked and the beans are then fermented, dried, toasted, peeled and crushed to form cocoa paste. The traditional way of crushing beans is with a heavy stone. We tried but fortunately Luis was there to finish the job otherwise we could not have enjoyed our hot chocolate!
It was a very interesting meeting; even if a day is not sufficient to understand a culture, we have had a glimpse and are thrilled with the experience!
The next day we went to visit the Cahuita National Park (this one's free ... one of the only in Costa Rica!). Hardly in the forest, we saw (and heard) howler monkeys. These little brown monkeys shout so loud that it can be heard several kilometers away !!! We then met the Capuchin monkeys ... a little too close. In fact I was holding a bag of cookies in my hand and bad luck for me, the monkeys have spotted it. One quickly descended from the tree and lunged at me. No hesitation, I threw the bag and I got back (monkeys have very sharp teeth ...). Romain tried to scare the monkey with a branch, but he didn't moved ... We therefore looked him eat our cookies and managed to get it back once it was almost empty ... Whew, more fear than harm ... These monkeys can be really aggressive. During our trip we also met some squirrels, lizards "Jesus Christ" (because they can run on water) and a lazy sloth! Sloths live almost all the time suspended by their legs with large claws. They move very slowly (hence lazy name) and will go down from their tree once a week to their needs! Amazing isn't it? We then enjoyed a bath ... with water at 29 degrees we cannot refuse !!!
After these 2 beautiful days in Cahuita, we went to Tortuguero (further north) by boat. The 3 hour ride was very nice; the river runs along the rainforest and we could observe different species of herons, a basilica, spider monkeys and two iguanas. Once our hotel found (and after filled bellies), we went to the beach in search of baby turtles. We only found remnants of the shells and dead turtles ...
But the next morning, very early, we went back on the beach ... and again didn't see any turtle !!! We were much more fortunate in the national park: we were able to observe a sloth, many capuchins and spider monkeys, lots of lizards, a beautiful toucan, green parrots and an anteater !!! (another first time).
In the evening, during a night walk with a guide, we saw a green turtle nesting on the beach and going back to the ocean. It was an emotional moment but no photos because the rangers forbid the use of cameras. We also saw two bull frogs and especially a red-eyed tree frog !!!
The wildlife is incredible in this country and we hope to see much more. We are now going to San Jose (just in transit) before catching a bus to La Fortuna: program: Volcano and Swimming !!! (and on the way we met a crocodile)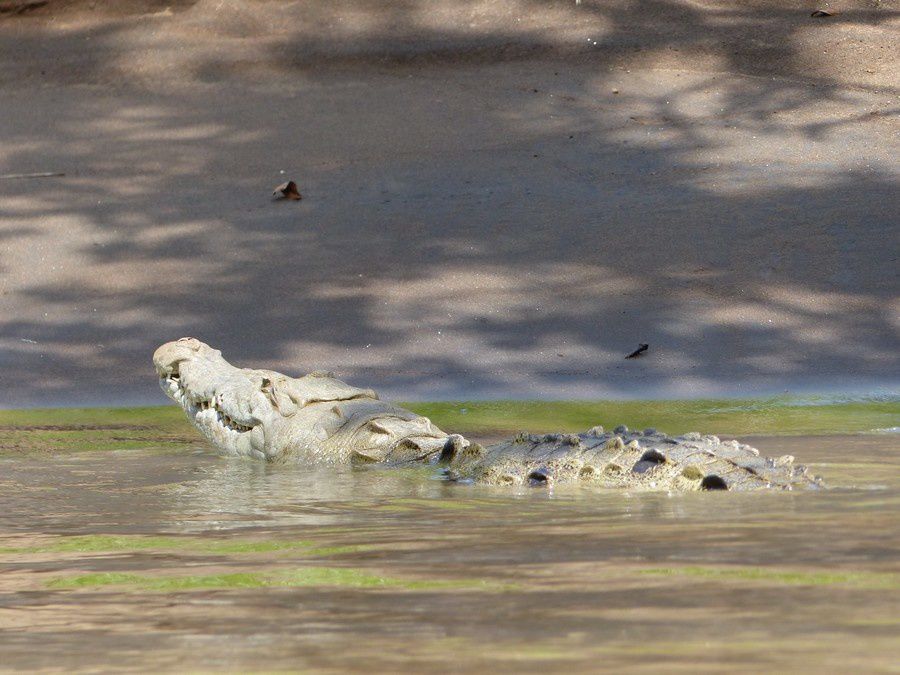 To be informed of the latest articles, subscribe: