Well, here we are: Miami Beach in USA, our last country before returning to France... But there is still a lot to discover!!! It starts immediately with Florida. (For geo Dummies (or those who have short memories), Florida is the state most in the South Eastern United States.)
First impression on leaving the airport, everything is great, beautiful.... And expensive!!! No less than 50 dollars in shared taxi to go to our hotel. (We could have taken a bus but it would have taken 3 hours, against 45 minutes with the shared taxi).
Once our luggage dropped, we started visiting the city which we so much heard about. Unfortunately, while Florida is nicknamed the "Sunshine State", it was cloudy, gray and mostly cold!!! Discover Miami Beach in the greyness, this is certainly not the same effect as in bright sunshine but it has the advantage of finding a deserted beach ... Even the lifeguards stations were empty ... almost (although watch Pictures ;-)) !
Miami is also a very trendy city, where bars and restaurants follow and succeed each other... But our money is running out, and the "Bling Bling," is not really our thing, so the Mojito at 8 dollars (excluding tax and service) will be for later!!! We were surprised not to see tens of skyscrapers but we were at South Beach and not in the Downtown, so the houses are lower and (often) very luxurious!!!
We then picked up our car that will accompany us until Seattle (around March 5)!! We are super excited to start a new road trip !!! And to get back into the swing we went towards the Everglades where we go camping. The Everglades is a national park in South Florida. It is a humid tropical zone composed of grasslands, savannah and flooded mangroves.
Again, the weather was not very nice and we had to set up our tent in the rain ... and dine in the car!! But the rain did not stop us to walk around the park looking for animals!!! We met many alligators but this time no crocodile. (To find out if you are facing a crocodile or an alligator, here's some info: alligators are black while crocodiles are rather green or brown, the jaws of alligators is wide while the crocodiles eventually "peak" and Finally, mouth closed, you can see few canines from the jaws of the alligator while the crocodile show you almost all his teeth!). We also observed many birds: herons vultures and hawks, there is something for everyone. During a rather humid walk, we even met a snake... who might have attacked us if we had not seen him... By showing the picture of the snake to a ranger, he told us that it was a black diamond rattlesnake, the most dangerous species that lives in Florida!!!! What a meeting!!! But in the Everglades there are also no dangerous animals. We saw manatees. Manatees, also nicknamed sea cows, are marine herbivores mammals that feed on underwater grass or on the surface in shallow waters. Like all mammals, manatees breathe at the surface of the water, so we had the chance to see these huge beasts. (3 meters and some 500 kg) They are very lazy and their back is covered with algae!!! We would have loved to put our masks and fins to explore the manatees under water, but with the crocs and alligators around, impossible!
Then you will say: What, you went to the Everglades and you do not tell us of the "Airboat" THE famous boat that "flies" over the marsh with its giant fan (as in "James Bond Die Another day ")? Yes, we too thought about it, the Everglades was associated with" Airboats "but park rangers told us that these noisy vehicles are prohibited within the park because they disturb wildlife and damage the flooded meadows. These boats are therefore only permitted outside the park ... We therefore preferred not to do this tour, we anyway saw many animals, and preferred a ride canoeing on the marshes ... Too bad, at that time we did not see any crocodile ;-)!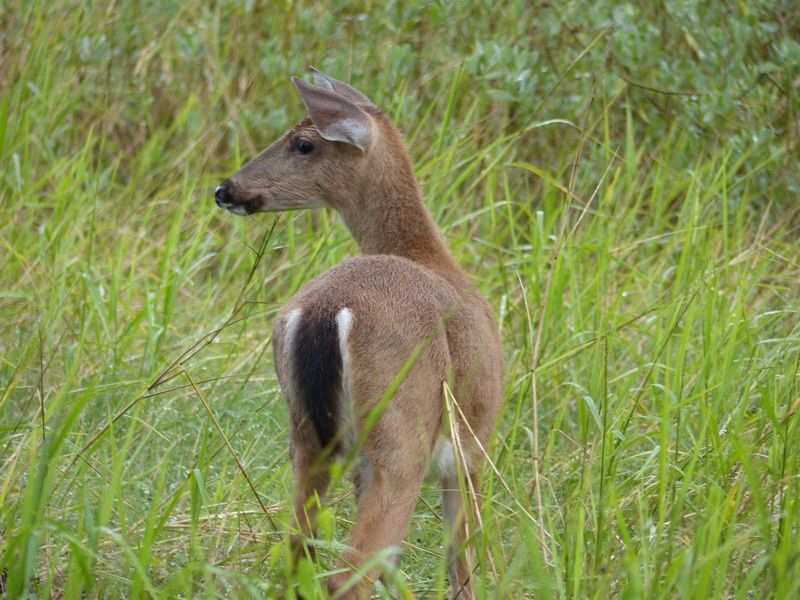 After our visit to the Everglades, we continued to the south of Florida, until arriving at the most southern point of the continental United States: Key West. To reach Key West, we passed through a series of bridges that join the hundreds of islands of the Keys Archipelago; it is superb and we had some sun !!! Once in Key West, first we were surprised by the Victorian architecture. This is (for us anyway), typically what we imagine when we think of the United States. We then went to the southernmost point and the closest to Cuba, and at the beginning of Highway 1, the "Mile 0" !!! The region of the Keys is also known for its citrus groves, so we tasted the famous "Key Lime Pie" !! Very sweet (yeah, we are in the United States ...) but very good!
We finished our trip in Florida in Orlando; the city of Disney World and Universal Studio! We would not come so far and missed it!!! For three days we became children again(well okay, we are always children, but this time even more !!!). In Disney World we personally met Mickey and saw Minnie Donald, Goofie, Peter Pan, Cinderella and Sleeping Beauty!!! We had a great day in the Space Mountain as well as in "It's a small World" but we most enjoyed our two days at Universal Studio! For a few moment, we plunged in the movies we love: Harry Potter, Jurassic Park, Transformers, Marvel.... Attractions delighted us; mixing 3D movies, special effects and coasters, we were often out of breath!!!
During our stay in Orlando (Kissimmee more precisely), we were hosted by Alex (with AirBnB) and in addition to sharing "Wine and Cheese" evenings Alex showed us a Puerto Rican Game: "Gallitos" . Equipped with two seeds pierced by a string, two players compete. Each turn, they try to "hit" the seed of the other with their own seed. If a player touches the seed of his opponent, he starts again, if not the roles are reversed. The goal is to break the seed of his opponent!!! Patience, precision and power are the hallmarks of this game!!! Alex gave us 2 seeds, so for those of you that we will see on our return, you will have the chance to experience this game!!!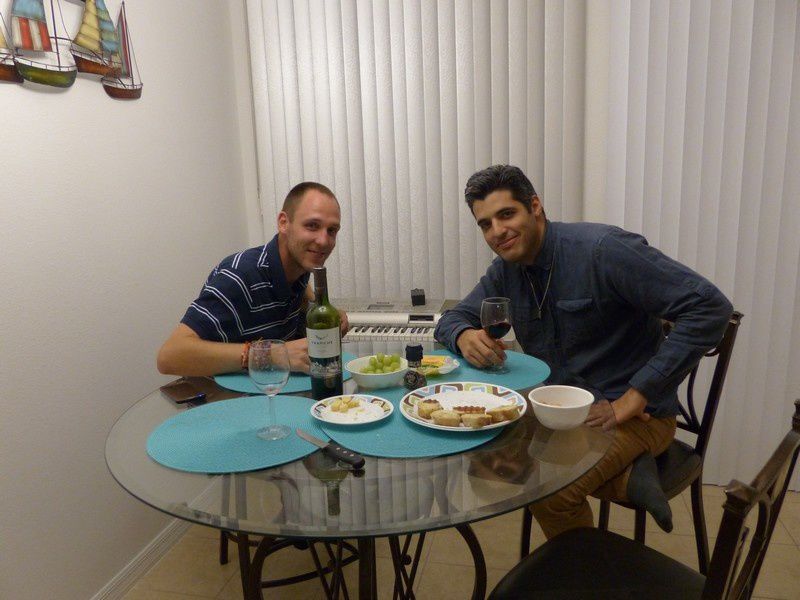 With all those beautiful memories in our head, now we're off to New Orleans (Louisiana), and in two days we will cross three states: Alabama, Mississippi and finally we will arrive in Louisiana.
To be informed of the latest articles, subscribe: