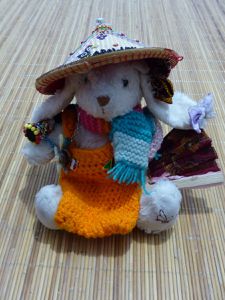 Pomme Pidou, what is for you the country where people are the most welcoming?
There is no one place! The Javanese (on the island of Java in Indonesia) were very welcoming. One lady even offered flip flops to Romain who had just broken his in the street. People of Myanmar (Is Burmese still correct?) are really genuine and smiling. Less affected by tourism (but it starts to change) they welcome you with open arms. I also loved the New Zealanders and even more the Quebecers !!! A great feeling just before the return!
What was the worst transportation?
That's easy: it was in Mozambique! I traveled in the trailer of a pick up ... and we were all standing, some clinging to others ... It is not comfortable but also very dangerous !! I was very afraid !
Well I must say that I have also traveled on a train in India for 6 hours stuck between two cars in front of the toilet ... Not really great! (And the night bus trips are not terrible either ...)
Do you have a story to tell us?
There are some yes. For example, I met Chileans and one Quebecer in Mozambique and when I went to Chile I saw Ben and Diane again. I also went to see William in Quebec. I have even done better: I met Leo in Tanzania, I saw him in Argentina ... and a few days ago in Paris!
My souvenirs were all brought by other travelers and arrived in Paris where Flo's parents waited for them ... but one of the packages spent initially a few months in a Parisian bakery and another package is still waiting for me in Hungary! You see, even my souvenirs have a history!
Do you also know that I lived 2 times the same day? Thanks to jet lag I experienced twice the night of June 22! Too bad it was not my birthday!
How many consecutive days did you stay without washing you?
I should not tell you ... But when I compare with other travelers, I still was pretty clean! I "only" stayed 4 days without washing me (we did a trek in the mountains in Peru and the river water came from melting snow ... so that I did not want to put one claw )
What's your record (in days) of the undergarment worn the longest?
Uh ... You will be disgusted !!! But in my defense I had only 3 pairs of underwear ... so I stayed 7 days with the same slip !!! (And besides, after my return, I had trouble remembering that I could (should) change daily ;-)!
You happened to be afraid?
Thankfully almost never but one day in the North of Argentina, Flo Romain waited in a bus terminal and a man fled with the bag in which I was taking a nap (it was early)! In the bag he also had a computer, camera, hard drive and even our passports .... Hey, I was very scared because I thought I will never again see my family ... Fortunately, thanks to the kindness (and speed) of the police, the thief was arrested and I found Flo and Romain again!
Were you sick often?
Not very often. I was rather lucky. The 3 of us, we had a flu in Chile and Chikungunya in Mexico. But otherwise nothing serious. Flo had backpain 2 times and Romain once. Regarding the famous turista we had almost nothing... but note though that Romain stomach is much more fragile than Flo's or mine .. Ah these men ... strong in appearance but so fragile!
What is your favorite dish?
I love paneer thikka masala. This is a North Indian vegetarian dish. It consists of cheese and a sauce with lots of spices in it! Yum !!!! In general, I fell in love with the North Indian food!
Did you eat weird things during the trip?
Yes I did some pretty bizarre discoveries. In Cambodia I ate two tarantulas, grilled scorpion, silk worms and cricket salad, a roll of flying ants and red ant pesto! It was not bad, the only thing I did not like is the giant water cockroach! Yuck !!! In Peru I ate guinea pig ... Many bones for few meat! We also tasted kangaroo ... In Africa I tasted the jackfruit ... This fruit smells very bad but when you eat it is good! But I refused to taste dried fish in Thailand ... The smell is too disgusting !!!
Are there any strange customs in the countries you have visited?
I do not know if I can say "strange" but one thing is sure, I can say "very different from what I know." Tanzania Maasai people drink milk mixed with blood of sheep. It brings strength and vitality! Yuck ... In India, the dead are transported to the city of Varanasi and their bodies are burned and the remains thrown into the Ganges. A way for them to reach Nirvana (their equivalent to our paradise). Myanmar people put Tanaka on their faces: it is a tree bark powder! It protects from sun and skin diseases! I tried, it's fun! In Vietnam at the time of Chinese New Year, families cook good things they offer to the dead out of respect! There are many more customs but I let you discover them for yourself!
In which country would you live?
Surprisingly there are few countries where I would live! I love Australia like Flo, but Romain prefers Canada ... It's too cold for my little legs! New Zealand would be a good compromise, but it's really the end of the world ... And the Asian culture is too different from mine for me to feel good to live. In South America I would also miss some things ... Finally France is nice!! From June I will settle in Alsace!
What animal you met will you not soon forget?
Oh I love animals so much that there were many encounters... Let's say if I had to select three I would say the lioness attacking a zebra in Tanzania just before my eyes, the whale shark in Australia with which I could swim and hammerhead sharks that I have observed in the Galapagos! But these are just examples, because I liked everything ... and I even cracked on a "viscacha" of Bolivia (a squirrel rabbit) but he did not even looked at me ... Sniff ... plus I did not have better luck with the "Jack Rabbit" in the US ... Luckily I found Pomme and Mirabelle in Flo's parents home!
What natural landscape did not want you to leave because it was so beautiful?
You're asking me tough questions! I would say that the landscapes that quite baffled me the most are generally in South America! The Iguazu Falls in Argentina are incredible ... The salt flats of Uyuni and Laguna Colorada (red lake) also! But the Grand Canyon in the United States and Wanaka in New Zealand also left me speechless ... So the list is long, I let you look at my pictures!
Have you experienced moments of doubt or sadness?
Moments of doubt no. Sadness yes sometimes, especially at Christmas or my birthday ... Or when my friends were married or had children ... I would have loved to be with people I like in those moments but the magic of this trip always made me want to move forward. Flo also lost two members of her family, so luckily Romain and I were there to comfort her! Yes, in two years happy things like sad ones happen... This is the circle of life like Mufasa would say!
Who are the best people you met?
I cannot answer. I met so many people during this trip. And each encounter is unique, dependent on time and place! I do not deny that I love children, they make me crack all (and this is mutual I think ...). There are still the highlights that I will not forget: The four days I spent in Jakarta in a very traditional and very friendly family. The meeting with Bhupen India who helped me to take the train in Mumbai (and I swear this is a test), Laetitia and her son Antoine who welcomed me in Cambodia and with whom I have played a lot, carpoolers who have shared my journey in Australia. Ah ... the list is too long, I have cited a few but I remember all! So to all those who have crossed my path and who read this, THANK YOU! Without you the trip would not have been the same!
How many kilos weight your backpack?
It depends if you speak at departure or arrival! I left with two large backpacks (nicely worn by Flo and Romain) and 2 small backpacks. The starting weight, 13 and 16kg for large bags and 5 and 7kg for small ones. But during the trip I bought winter clothes, "clean" outfits... and a lot of souvenirs! So at the end, as I had a car and did not need to carry my bags, I swapped the 2 small bags against two small suitcases. At the airport the weight made me hallucinate: The 2 big bags weighed 23kg each and small bags 12kg each ... Ouch!
Have you changed?
Uh ... I have a little blackened! And I weighed down by all the memories I brought back from each country and the children have offered me! Apart from that, I do not know ... It is you to tell me!
What are you most proud of?
To have dared make the decision to leave!!! It's not always easy to leave what you know ... but this adventure was so magical that I am very proud of myself !!!
Is there a place that you do not advise us?
There's no place I did not like but Kenya is very unstable so I would advise against it right now! (When I was there, there were explosions close to where I was ...). But I met beautiful people…
If you had to choose only one memory, what would it be?
I think I'm not ready to forget the second when Romain knelt before Flo to propose her to marry him!! I had tears in my eyes!
What did you miss the most?
Without hesitation cheese !!!! Oh, I missed it so much !! But last month I caught up with it!
What was the most unusual activity you did?
I did a lot of things on this trip: I swam with a whale shark, flew over the Great Barrier Reef and the Grand Canyon, plunged with bull shark, climbed a volcano, slept under the stars in the desert in India, flew in an hot air balloon in Laos (thank you Mouvaux School), surfed on sand, walked in dinosaur tracks ... Wow, all those memories back, I really lived incredible things during those two years !!!
What is the object that has the most value in your backpack?
In addition to myself (haha, that's not me who says it but Flo and Romain), that's my hard drive(s) that contain all photos and videos of this magnificent trip !
And what is the thing which you could not do without or contrary was unnecessary?
To take pictures, it is of course a camera !! So that's why I could not do without it!! My tent also has served me 5 months spent in it! Not bad right? The unnecessary thing I took uh ... let me think ... a micro basin for washing clothes and / or dishes: either I found a sink on my way ...or I did not washed !! Hahaha, this thing is really unnecessary (and not practical at all ... and expensive ...)
Did you respect your budget?
Yes and no ! If you look at my budget by country that is what I expected ... but I finally traveled for 24 months instead of 18 planned, so the bank account is almost empty now! But not for long: in June I work again!
Which country was the cheapest?
For me, the countries where I spent the least are Indonesia, equal with India !! But everything depends on the way you travel. I took the very local buses, the second class trains and slept for almost nothing. If you like comfort, you will spend more than me!
And what is the most expensive country?
Again it depends on the way you travel ... but I have spent a lot in Galapagos (which belong to Ecuador) and then the United States also made a big hole in my wallet ... But I must say that I did many extras over there !!!
What question do you hate we ask you?
"What's your favorite country?" !!! Stop with that ... or detail your question such as "What is your favorite country regarding wildlife? Or kitchen? "Then I can answer but only that one I can not, I love them all !!!!
If we suggest you go for a new adventure, you say yes?
Yes, yes and yes again !!! You have the tickets? My bag is (almost) ready!
What will be your next travel destination?
The ideas are not lacking ... There are destinations that I'd like to see again(such as Indonesia, Australia, South America in general ...) but as my next trip will definitely be under the sign of love I think of a destination "beach and diving" (because I hate sunbathing too long) so I'd go to New Caledonia or Mauritius or in French Polynesia or ... Oops I stop because the list is long and I do not want to annoy you !!! In any case one thing is sure ... you'll see me again!
To be informed of the latest articles, subscribe: