After spending a day and a half in Lima (yes okay, we just "overviewed" the capital but hey, you know us, we prefer Nature), we went to Huaraz, our last stop in Peru. We finished with 2 treks: a one day walk to the Laguna 69 and a three day one for the Santa Cruz trek.
Armed with our tent, our pasta and powdered soups, we left for four days in the Cordillera Blanca.
For the first day at Laguna 69 we were with Fabian we met earlier in Bolivia (and again in Peru). Before starting the walk, we first pitched our tent (as the walk to Laguna 69 is not a loop, just a round trip of 14 km in all). At the foot of the mountains, near a stream and surrounded by cows and horses, it really was a perfect spot.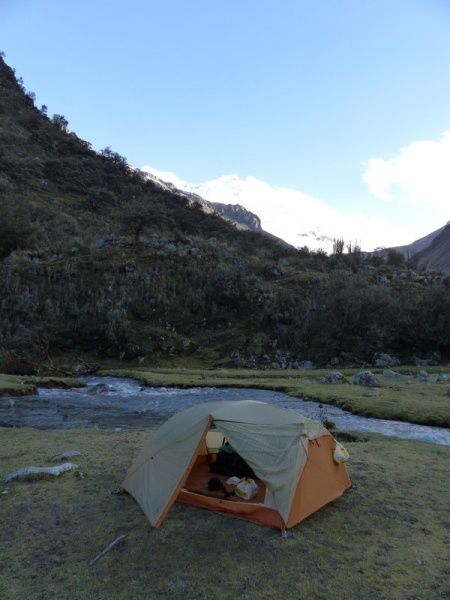 To climb to the lake there are about three hours of walking and an elevation gain of 800 meters !!! Normally Romain is always 50 meters in front of me, but today he is sick (again, unfortunately) and he is way behind us. We finally arrived at the top, relieved ... but the sun is not shining and we have to hide behind a rock to protect us from the hail.
When we decide to go down (because Fabian has to take the bus back to Huaraz), the sky gets blue ... So we take few more minutes to make the last pictures with a beautiful blue sky !!!
Back downstairs, Romain is really tired and sick; so we rest a bit in the tent; swallow our hot mushroom soup, play cards (just to pass the time) and at 18:30 we are in bed ... Hopefully tomorrow it gets better, if not, no walk for us ...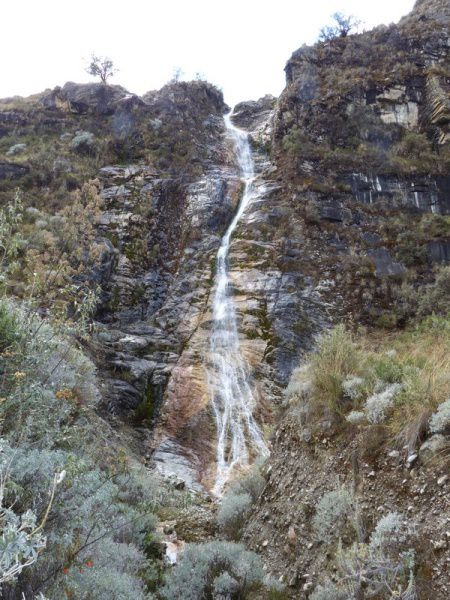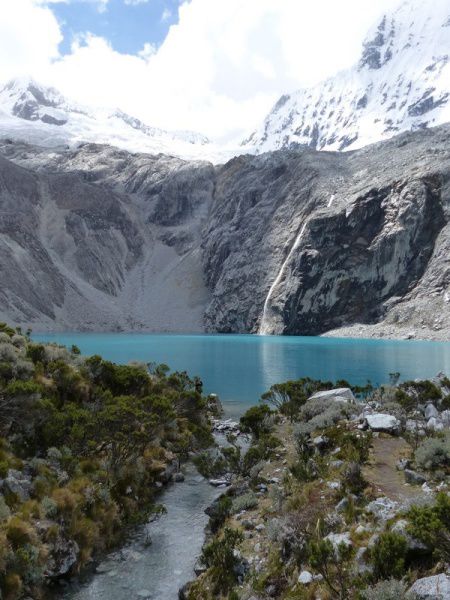 The wake-up was somewhat difficult the next day because the night was cool ... but Romain feels better! So, we took a bus that droped us at the beginning of Santa Cruz trek. Most agencies recommend it in four days, but we will do it in 3 !!! Hopefully it goes.
After a short descent, the path begins to climb. For the first day we have about 900 meters of elevation gain ... and the bags are heavy !!! Romain relieves me from a few kilos to facilitate my walk. We cross highland, skirting streams and discovering waterfalls. The snowy peaks surrounding us, it's really beautiful.
Arrived at 4300 meters above sea level (and after 7hours walk) we decided to pitch our tent for the night! This time, no question of being cold; we will sleep glued-tight!
This morning after a cool night despite our technique of "stuck-tight"; we are super motivated to reach Punta Union Pass at 4750 meters above sea level! 1:30 later, we finally arrived at the pass. The sky is not completely blue (yes here we approach the rainy season and the clouds are never far away) but the scenery is breathtaking (and the lack of oxygen here is not the reason ;-)). You can see the turquoise lagoons below, this is really beautiful.
We rested a bit, Pomme Pidou acted its star, then we began the descent. It's nice to descent, especially with a view like the one in front of us.
Arrived at the camp of the agencies, we took our meal (instant noodles, as always) then made a detour to another lagoon (which is 4500 meters above sea level while we are already at 4100 ...)! But the trip is worth it; the Lagoon between the mountains is very nice (and we could leave our bags at the beginning of the path, so it's even more enjoyable !!!).
In order to have a short day tomorrow, we decided to go closer to the lagoon for the night. We first passed through a large "sandy plain" then arrived at the lagoon ... And after searching a flat spot sheltered from the wind, we finally found the perfect spot for our tent: just in front of the lagoon! This is definitely the most beautiful place where we camped until now ...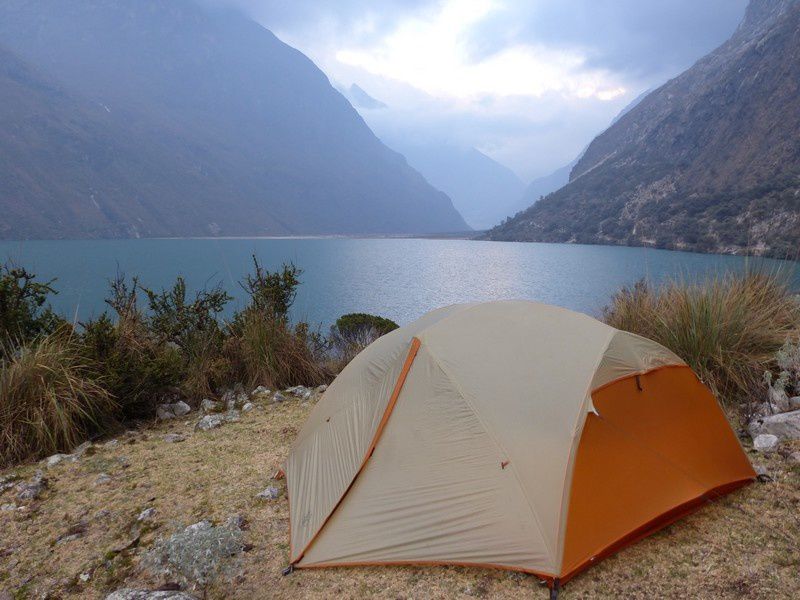 Ah, it's nice to wake up with such views ... as the sun is still hidden behind the mountains, the water has not yet tinged with a beautiful blue but as time passes, the colours change .. Once our tent dried, we start our last 15 kilometers. Luckily this last day is only downhill. We walk along the river and once again we thoroughly enjoyed the scenery ... 4 hours later we are in the village. We take a meal at a local restaurant and then we find transport to take us back to Huaraz. We loved the 4 days of walking but we are happy to find a real bed and a shower !!!! (yes, over 4000 meters above sea level, you do not really want to swim in the river ...)
Well, our stay in Peru is already finished; we are now going to Ecuador (two-day bus trip ...) where the Galapagos await us !!!
To be informed of the latest articles, subscribe: