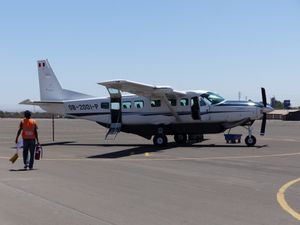 After our long walk to the Machu Picchu it wasn't enough for us and we went to Arrequipa to visit the Colca Canyon. Unfortunately Romain got sick and we decided to take a rest in Nazca. Nazca is a town in the desert known for its "lines".
You didn't hear about it? Well, you'll be amazed. On more than 450 km2 of arid desert, more than 800 geometric figures (even animal) of several hundred meters in length (some lines are even several kilometres) have been found. But to have a better overview and discover the drawings, it is better to fly over.
But who could have done these drawings? Aliens ? People who wanted to send a message to aliens?
In fact, these drawings date from civilization "Nasca" that lived between 500 BC and 500 AD. The drawings are for the majority made of a single line that never intersects! In some places the archaeologists found piles, which suggests that the Nasca people "framed" the area before "drawing" in the rock. Although it is unclear exactly what these figures where for, historians believe that they had a role related to astronomy and religion.
So we were curious to see it with our own eyes and decided to fly over... But what a flight !!! It was really "Freestyle". The pilot had 12 drawings to show us, so he turned from left to right very quickly ... and Romain stomach did not support it (Fortunately, as in all planes, there is a small plastic bag tucked into the pocket of the seat ... ).
Apart from this airsickness, we still were a bit disappointed by the flight. Although the drawings are very large (several hundred meters) they seem small from the sky and some are very difficult to observe. Of the 12 figures that we were supposed to see, we recognized only 9 ...
It nevertheless remains mysterious and incredible, we are glad we did it (luckily the agency gave a "special" price of 70 USD) but we do recommend it only if you have a strong stomach and a hundred dollars to spend ...
The Agency then proposed us to visit (for free !!) a Nasca aqueduct. When you think "Aqueduct" you imagine a bridge built by the Romans to carry water. But Aqueduct simply means "a path for the water." The Nasca people (who lived in a very dry region) had managed to build an underground aqueduct that collects water from several underground rivers and carry it to a "pool". While the Nasca region receives only 30 millimeters of rain a year, the Nasca civilization had water all year. Even more incredible, the aqueduct is still used today and nothing has changed! He resisted all earthquakes; the wood used to support the "control holes" does not rot ... We know only little about the Nasca civilization but it had a lot of knowledge to succeed such construction!
We go now to Lima, the capital of the country before finishing with a trek in the Cordillera Blanca near Huaraz.
To be informed of the latest articles, subscribe: